Greer's Blog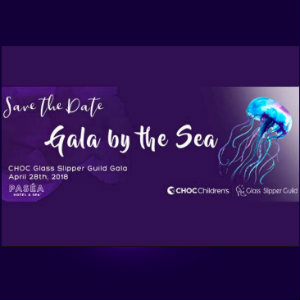 Gala by the Sea
04.24.18
Join CHOC Children's Glass Slipper Guild to celebrate Gala By The Sea on Saturday, April 28 at 6 p.m. at the Pasea Hotel & Spa in Huntington Beach. This enchanting evening is not to be missed, honoring the lives of incredible children, families, physicians, and staff of CHOC. Guests will feel the ocean breeze as they enjoy a cocktail reception and silent auction. A gourmet dinner and dessert will be served, followed by a thrilling live auction. The after party will wrap up the evening with music and dancing before guests come ashore to end the night.
All proceeds from the Gala go towards the $1 million pledge to CHOC's Hyundai Cancer Institute and Complementary Integrative Medicine Program. CHOC's Hyundai Cancer Institute is one of the top Pediatric Centers in the country and works hand-in-hand with Complementary Integrative Medicine Program to treat patients with therapies that best complement their scope of treatment.
Ticket price: $300 each ticket (Table=12 tickets Table purchase is $3600). Purchase tickets at chocforms.org.
Paséa Hotel & Spa is at 21080 Pacific Coast Highway in Huntington Beach.
---