Greer's Blog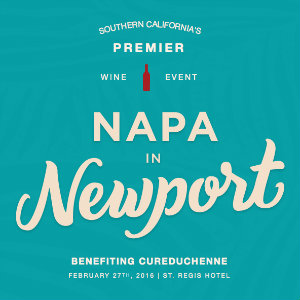 2nd Annual Napa in Newport for Duchenne Muscular Dystrophy
01.26.16
Southern California's premiere wine event of the year, Napa in Newport will be celebrated on Saturday, February 27 at the St. Regis Monarch Beach. Napa in Newport unites 40 renowned vintners and wine enthusiasts to help find a cure for Duchenne muscular dystrophy, a devastating genetic disease that robs children and young adults of their muscle strength and claims their lives by their mid-20s.
All proceeds from the evening will benefit CureDuchenne, the national organization committed to finding a cure for Duchenne muscular dystrophy.
Honorary co-chairs of this year's Napa in Newport are Darioush and Shahpar Khaledi, owners of Darioush vineyards and winery.
Napa in Newport attendees will enjoy a selection of fine, rare and reserve wines from 40 select Napa Valley wineries including Darioush, Alpha Omega, Amici Cellars, Anomaly Vineyards, Arkenstone Napa Valley, Arrow & Branch, Blackbird Vineyards Bespoke Collection, BOND Estates, Broman Cellars, Checkerboard Vineyards, Crocker & Starr, Dakota Shy, Dana Estates, Davis Estates, Fairchild Napa Valley, Fait-Main, Gandona Estate, Gargiulo Vineyards, Gemstone, Hunnicutt, Joseph Phelps Winery, Kelly Fleming Wines, Lokoya, Memento Mori, Miner Family Wines, Morlet Family Vineyards, Nellcôte Napa Valley, Patel Napa Valley, Plumpjack, Promise Wine, Quintessa, Redmon Wines, Realm Cellars, Relic, Sequoia Grove, Signorello Estate, Three Sticks Wines, Vineyard 29, Zakin Wines and ZD Wines.
The evening will include a four-course dinner created by renowned Chef Azmin Ghahreman of the celebrated Sapphire Laguna restaurant, known for his globally inspired cuisine that balances innovation with comfort food. Ghahreman's menu for Napa in Newport will be created to pair delicious cuisine with the sophisticated aromas and tastes of the hosted Napa wines.
Napa in Newport kicks off with a wine tasting reception and silent auction at 5 p.m., then dinner and wine pairings at 7 p.m., followed by the evening's program and live auction at 8 p.m.
Tickets and sponsorships are available now. For more information and to purchase tickets visit NapaInNewport.org
---