Greer's Blog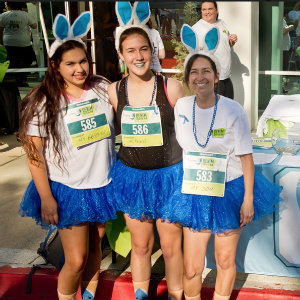 3rd Annual DENIM Dash 5k: EGGstravaganza
04.07.17
Global Genes, a leading Southern California rare disease patient advocacy organization, is celebrating its 3rd annual Denim Dash 5k EGGstravaganza on Thursday, April 13 from 5 - 7 p.m. at the Newport Dunes Waterfront Resort, in conjunction with the worldwide virtual event.
You can join the DEMIN Dash 5k: EGGstravaganza and feel free to run, roll, jog, walk, bike, or even skip in support of patients, family and friends of the rare disease community.
It will feature an Easter egg hunt along the one-mile waterside path through the resort, a visit from the Easter bunny, music, crafts, and great prizes.
If you want to join my team, I would love that! It's easy, the link is here
All proceeds from the event will benefit Global Genes' RARE Patient Impact Grant, an exclusive funding opportunity for rare disease support groups and RARE Foundation Alliance patient organizations.
Global Genes developed the DENIM Dash 5k in efforts to offer rare disease supporters from around the world the opportunity to come together and participate in one unifying virtual event, with the opportunity to participate in the Southern California local race.
The race will kick off at 5:30 p.m.; the Post-Race Finish Line Party is from 6 p.m. – 7 p.m.
To register and learn more about the Global Genes' Denim Dash 5k EGGstravaganza, visit here.
Newport Dunes Waterfront Resort is at 1131 Back Bay Drive in Newport Beach.
---