Greer's Blog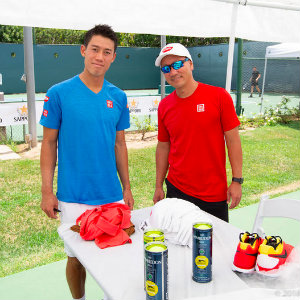 9th Annual Michael Chang Tennis Classic
07.19.19
World champion tennis players Michael Chang and Kei Nishikori will compete in a World Class Doubles Pro Exhibition at the 9th Annual Michael Chang Tennis Classic (MCTC) on Sat., July 20 from 5 to 8:30 p.m. at the Newport Beach Tennis Club to raise funds for HomeAid Orange County and the Chang Family Foundation. The fundraiser event includes the professional exhibition match as well as a USC vs. UCLA undercard match and top sponsor tennis.
Chang became the youngest male player to win a Grand Slam singles title when he won the French Open in 1989 at 17. Nishikori was currently the Number 6 professional tennis player worldwide. Chang has served as Nishikori's coach since 2014.
"We are very proud to support HomeAid, which is devoted to building new lives for homeless families and individuals in Orange County through housing and community outreach," said Michael Chang. "The Chang Family Foundation is an extension of the Chang family's faith leading them to serve people in need and giving them hope for a better tomorrow."
MCTC is seeking sponsorships which range from $1,000-$12,500, and silent auction donations. To sponsor or donate, contact Rebecca Brown, MCTC Director of Programs and Community Outreach, at rebecca@mchang.com or 949.858.7300.
General admission tickets are $50 online and $60 at the door. Food and drinks are available for purchase. Autograph opportunity at the end of the professional exhibition match.
The Newport Beach Tennis Club is at 2601 Eastbluff Drive in Newport Beach.
---