Greer's Blog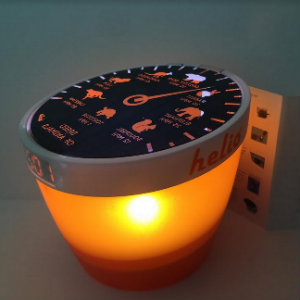 award-winning children's educational night light
01.18.18
John and Marlis Fyke, a Corona Del Mar couple and owners of The White Dress also invented an award-winning children's educational night light projection system called Helio. The Helio Base Station emits LED light through specially designed discs whose content is projected onto the ceiling in a soothing contrast of shadow and light.
Instead of seeing stars and moon projected onto the ceiling, kids are treated to a wealth of knowledge as they happily lie back and absorb entertaining, educational facts and images that inspire lively interactions and enlightening discussions. Swapping out the discs changes the subject matter.
The Base Station comes with five discs whose content ranges from exploring the cosmos to more earthbound matters such as the speed and sleeping habits of a wide variety of creatures. Some exciting expansion packs are available that mirror each child's age and grade, with learning curriculum encompassing subjects ranging from nursery rhymes and mathematics to phonics, sight words, and past presidents. It's a fun and relaxing way for children to play and learn, both solo and with the entire family!
---