Greer's Blog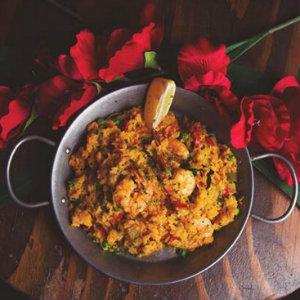 Celebrate the New Year at Kaleidoscope
12.27.18
Celebrate the New Year at Kaleidoscope in Mission Viejo, where great restaurants and entertainment options can help you ring in 2019 with a date, friends or the family.
Tapas Flavors of Spain is offering a prix fixe menu and a live Flamenco show, followed by live music and dancing, for $70 per person. Party favors and a glass of Champagne for toasting are included.
Dinner seating starts at 6:30 p.m. and includes a Mediterranean Salad; a tapas plate of Tortilla Espanola, Sautéed Mushrooms and Albondigas; a choice of entrée from Chicken Mallorca (baked chicken topped with sautéed mushrooms in a tomato sauce), House Paella (traditional Spanish rice with saffron, chicken, shrimp and Spanish chorizo), Pasta Sevillana (angel hair pasta tossed in a cream sauce with Spanish olives and shrimp); or Steak a la Rioja (ribeye steak topped with caramelized onions in a reduced red wine sauce); and Flan de Naranja for dessert.
The menu is also available in the bar for $45 per person. Dancing only will be available with limited seating in the bar for a $20 cover. All tickets are available on EventBrite.com or visit tapasflavorsofspain.net.
Sol Agave and Riptide Rockin' Sushi & Teppan Grills are two other dining options great for New Year's, as well as Panini Kabob Grill for a casual Mediterranean meal. Before or after enjoying lunch or dinner, head to the movies at Edwards Kaleidoscope Stadium 10, or take the kids for an afternoon of family fun at Jump n' Jammin, which closes at 6pm on New Year's Eve, or Laser Quest where you can enjoy games of laser tag or an escape room until 9 p.m.
Kaleidoscope is at 27741 Crown Valley Parkway, just off the 5 Freeway, in Mission Viejo.
---