Greer's Blog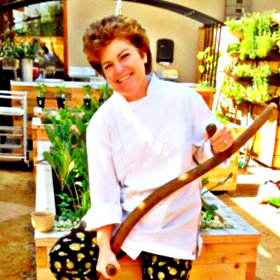 Chef Cathy Pavlos at Provenance Dine Newport Beach Menu
01.19.15
One of Newport's newest restaurants, Provenance in Newport Beach is a hidden gem at Eastbluff Village Center and for anyone who loves Napa-style, farm-to-table dining this is the place for you. Chef Cathy Pavlos planted an organic raised-bed garden in the patio where she can incorporate the garden's bounty into her fresh and delicious menu.
For Dine Newport Beach Restaurant Week, Chef Cathy is offering a lunch menu for just $15, and the dinner menu costs $40.
For dinner, you will be overwhelmed by the incredible choices: start with warm yogurt biscuits with honey butter. First courses include cauliflower and quinoa soup, clipped garden lettuce, shaved brussels' sprouts salad, or housemade duck and pork pate.
Second courses choices include whole smoked Idaho trout, a surf and surf with seared ahi and salmon, turf and turf with rib eye and New Zealand baby lambchops, or Shelton's free-range turkey meatloaf, or boneless beef shortribs. Dessert choices include dark chocolate crème brulee, old fashioned carrot cake, or gingerbread cookie sandwich.
2531 Eastbluff Drive in Newport Beach. 949.718.0477.
---