Greer's Blog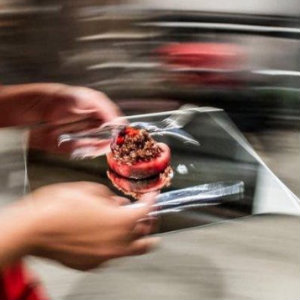 Chromatic Dinner hosted by Feastown at EASTOWN
06.05.18
Get ready to experience neo futurist dining at the Chromatic Dinner, an eating experience whose aim is to re-think the way in which the world of food, art, and science come together, resulting in an unexpected multi-sensory dinner. The Chromatic Dinner will take place at Feastown at EASTOWN in Los Angeles on Thursday, June 7, on Friday, June 8, and Saturday, June 9.
Inspired by the ideas of Kandinsky's principles of Klangfarben, and the influence of the Chinese five elements: tree, fire, earth, metal, and water. Each course is designed in a different color, taste, smell, texture, and sound to create a five-course chromatic dining experience.
Courses come out with a soundtrack inspired by Newton's circle of sound and color (1704). Working together with perfume researcher Caro Verbeek, each dish is based upon smells that are associated with that color. The surroundings and clothing of the waiters also change per course.
The Chromatic Dinner is a monochromatic, audio, visual, olfactory and culinary experience which plays with all the senses. This event is hosted by Feastown at EASTOWN, and feature tableware by notNeutral + fresh produce by Imperfect Produce. Spaces are extremely limited.
June 7 – 8 p.m. to 11 p.m.
June 8 – 7 p.m. to 10 p.m.
June 9 – 7 p.m. to 10 p.m.
Feastown at EASTOWN is at 6201 Hollywood Boulevard in Los Angeles.
---