Greer's Blog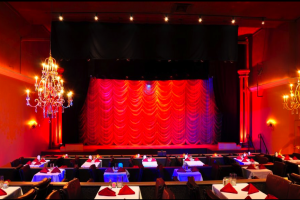 Come and Enjoy the Theatre
07.30.12

Enjoy dining, entertainment and comedy at the Encore Dinner Theatre & Club in Tustin. Formerly called the Curtain Call Dinner Theatre, the venue was the first movie theatre in Tustin that opened in 1959. The Encore Dinner Theatre & Club transformation has included a remodel, gourmet menu, fresh décor, a dining room with retractable chandeliers, a full bar, a lobby lounge, and more.
There really isn't anything quite like it in Orange County, a dinner house with professionally-produced Broadway musicals, stand-up comedy acts, and live entertainment. (It's also available for business meetings, gala dinners, and other private events.) The focus is on great food, entertainment and value. Showing through Aug. 19 is "Swing: A Big Band" musical revue complete with a 13-piece big band orchestra, swing dancers, tap dancers and more.
Performances are on Thursdays at 8 p.m.; Fridays at 7:30 p.m. Saturdays at 1 p.m. and 7:30 p.m.; and Sundays at 1:30 p.m. Tickets cost $46 to $69. Just arrive 90 minutes prior to show starting for dinner service. Discounts available for children, seniors and groups.
Each Friday and Saturday at 10 p.m. Encore Comedy Club brings in top stand-up comediennes. Tickets cost just $10. And on Saturday, Aug. 4 The Funniest Housewives of OC will be performing at 8 p.m. It's guaranteed that this funny group of diverse ladies will make you laugh. Tickets cost $15 to $35. To purchase tickets to any Encore performance or for more information on upcoming events, call 657.210.3200 or visit http://www.EncoreDinnerTheatre.com
---