Greer's Blog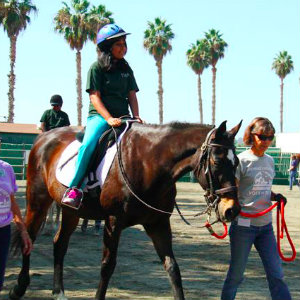 Del Mar Hosts Charities During Its Bing Crosby Season
11.06.19
As it has for the past 80 summers – and now, too, for the past five falls – Del Mar takes pride in hosting a series of highly worthy charities and their causes during its race meetings. That will be true once more over the course of the upcoming sixth Bing Crosby Season between Friday, November 8 and Sunday, December 1.
The seaside track will jump right into its long-standing altruistic mode on Opening Day when it partners with its sponsor MyPoint Credit Union as they celebrate and support the kids of Camp Wamp, a place where disabled youngsters find positive experiences. The day's first race, tagged the "CAN DO" after the Camp Wamp credo, will see five Camp Wamp kids escorting riders from the jockeys' room to the paddock for mount up, then those same kids being on hand in the winner's circle to present honors to the winning horse and rider after the race is run. Camp Wamp's cause, its amazing founder and its heart-touching program can be viewed at stephenjwamplerfoundation.org
The following day, Saturday, November 9, Del Mar's Il Palio restaurant will be the site of an annual Bet on Cures fundraiser for the Chron's & Colitis Foundation, which seeks to aid in finding cures for the debilitating inflammatory bowel diseases that can play havoc with the digestive system and affect more than 3.1 million Americans. Tickets include delicious hors d'oeuvres with a hosted bar and can be obtained at BOC19.givesmart.com
On Saturday, November 23, the track will provide the backdrop for a fundraiser titled "A Day at the Races…Celebrating Women in Horseracing." A pair of notable and highly successful Southern California owners and breeders – Marsha Naify and Samantha Siegel – will be spotlighted by the Don Diego Scholarship Foundation, which, since its inception in 1986, has raised more than $1-million for students either heading to college or seeking agriculture education grants. Tickets for the affair can be obtained at dondiegoscholarship.org
Next on the roster of feel-good/do-good happenings is the popular "Toys for Tots" program on Sunday, November 24. San Diegans may recall this event being run by the Chargers football team until their departure at the start of 2017. "Toys" bins will be available at the track throughout the race meet and anyone bringing an unwrapped toy for the cause will receive free admission to the track on the day they do. More "Toys" information seen here: dmtc.com/calendar/detail/ride
The track's special Thanksgiving Day (Thursday, November 28) program – with its early 11 a.m. first post – has a perfect charity component in its 8 a.m. "Family Fun Run," which goes for a one-mile loop around the racetrack. Del Mar partners with the nearby Helen Woodward Animal Center and its unique therapeutic riding program for the high-energy morning exercise. Additional information on that program can be found here: animalcenter.org/programs-services/therapeutic-riding
On Closing Day, Sunday, December 1, the track will salute the San Diego Food Bank and its mission of feeding families and individuals in need, which proves especially important during the holiday season. That afternoon Del Mar will host Food Bank staff and their big donors in a skyroom for the day and provide free admission to anyone donating a nonperishable food item." can be obtained at the following: ladies-and-gents-holiday-at-the-races.
With the exception of Thanksgiving Day's early first post, racing will start at 12:30 p.m. all afternoons during the fall stand.
2260 Jimmy Durante Blvd. is at Del Mar.
---