Greer's Blog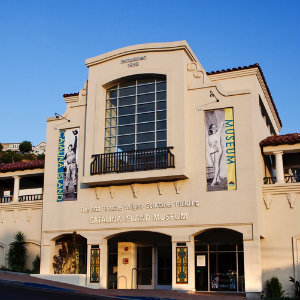 Explore Catalina's Art, History and Culture
10.08.18
Planning a visit to Catalina? Consider a visit to explore the art, history and culture of Catalina with a visit to the impressive new building at the Catalina Island Museum in Avalon, on Santa Catalina Island. It's a 65 year-old museum that exhibits Native American Indian artifacts from more than 8,000 years of human settlement on the island as well as more recent historical photographs dating back to the late 1880's to early 1900's of Spanish/California architecture.
The history of the island is rich with stories about movie stars from Marilyn Monroe to Charlie Chaplin; politicians from Ronald Reagan to Winston Churchill; sports icons from Tiger Woods to the Chicago Cubs; and marlin fisherman from Zane Greg to Winston Churchill.
The new museum building designed by the architectural firm of Marengo Morton Architects that provides over 18,000 square feet of exhibition and support space. The museum tour begins with a film about Catalina Island's history in the museum's Brown Family Digital Theater, which is located just off the main lobby.
Also adjacent to the lobby is a fully appointed Harris Family Museum Store, which looks out onto the Hinchliffe Family Atrium. A mural composed of Catalina tile and designed by artist Richard Keit is a highlight of the atrium. The William Wrigley Jr. Gallery, the John and Hasmik Mgrdichian Gallery and the Artists' Plaza Gallery are all exhibition galleries dedicated to the island's history and to special exhibitions, many of which will travel to the island from collections throughout the world.
One of the most unusual features of the museum is the amount of exterior space that exists both on the building's rooftop and in the gardens immediately adjacent to the museum. A large projection wall directly opposite the Ackerman Family Amphitheater, which seats approx. 100 people and accommodates the exhibition of films in the evening. The Artists' Plaza and Schreiner Family Plaza provide well over 8,000 square feet of outdoor space, appropriate for dance and music concerts, as well as public and private events.
The design of the building's exterior represents a blend of the Spanish Mission style with the Art Deco influence of the 1920s that predominates in Santa Catalina's landmark building, the Avalon Casino. One of the most inventive areas of the building is its facade, the highest reaches of which were inspired by the famous marquee of Chicago's Wrigley Field. This may be considered a fitting tribute to the Wrigley family, the city of Chicago and the Chicago Cubs - all of which play an important role in Avalon's history.
Open 10 a.m. to 5 p.m. daily.
217 Metropole Ave. in Avalon.
---