Greer's Blog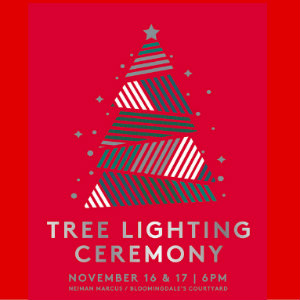 Fashion Island's Tree Lighting Ceremony
11.14.18
You can join Fashion Island's Tree Lighting Ceremony on Friday, November 16 and Saturday, November 17 at 6 p.m. in the Neiman Marcus - Bloomingdale's Courtyard. Hosted by Stephen "tWitch" Boss and Allison Holker, enjoy a 25-minute live musical show by The Young Americans, a visit from Santa, a magical snowfall, and, of course, the highly-anticipated lighting of the tree!
Seating can be "reserved" starting at 7 a.m. each event day. Blankets and small lawn chairs (no more than 6 inches from the seat to the ground) are permitted. First come, first served to seat (as of 7 a.m). Chairs/blankets must be removed after each show. Items cannot remain overnight.
Fashion Island is at 401 Newport Center Drive in Newport Beach.
---