Greer's Blog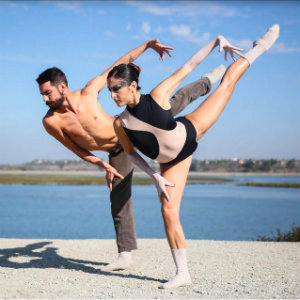 Festival Ballet Theatre celebrating its 30th Anniversary
10.11.18
Festival Ballet Theatre, Orange County's resident professional ballet company is celebrating its 30th anniversary with a repertory of innovative contemporary works and acclaimed classical ballets. The season starts with Ovation, a conceptual tour de force in three pieces by contemporary choreographers on October 13 and 14, followed by The Nutcracker from December 8 to 24, Sleeping Beauty on March 23 and 24, concluding with Gala of the Stars in August 2019 (venue to be announced).
Ballet fans can enjoy the contemporary work of the October show titled Ovation. Featured works are: Texture of Time, choreographed by Josie Walsh, a thought-provoking ballet exploring the essence of time as it changes and morphs, set to original music by Jealous Angel and using special effects by Academy Award winner Jim Doyle; Oops, choreographed by Viktor Plotnikov, set to Ponichielli's iconic "Dance of the Hours," a comical award-winning piece presented on the U.S. tour of Youth America Grand Prix's (YAGP) 2011 Gala, Stars of Today Meet the Stars of Tomorrow; and the premiere of Plume, a new piece choreographed by Andrea Schermoly, set to music recomposed by Max Richter, uses the story of birds relaying messages to humans regarding the fragile ecosystem of this beautiful world.
Create holiday memories for your family by sharing the magic of the cherished classic, The Nutcracker. Festival Ballet Theatre's family-friendly, breathtaking production features vibrant scenery and dazzling costumes, which make this age- old tradition sparkle like new. Get swept away by Tchaikovsky's iconic score as the Sugar Plum Fairy, our heroine Clara, and a cast of hundreds take you on a magical journey to mystical lands. This full-length traditional production is choreographed and directed by Festival Ballet Theatre's Artistic Director, Salwa Rizkalla, and features world-renowned guest artists, FBT's professional company dancers, and exceptional young talent from across the Southland.
This year they will be offering a very special seasonal treat; The Nutcracker Tea Party. While adults sip a glass of champagne, children will be gathered to listen to the story of The Nutcracker and be visited by some of the characters from the ballet. The elegant sit-down tea will be prepared by Chef Laurent and include delicious finger sandwiches, sweet treats, tea and lemonade. Photo opportunities and a party favor for each guest are included in the Nutcracker Tea Party ticket price.
In March 2019, they're presenting a full-length production of the beloved classical ballet, The Sleeping Beauty. This heart-warming production of Tchaikovsky's masterpiece brings to life fabled storybook favorites and is choreographed and staged by Artistic Director Salwa Rizkalla after Marius Petipa.
Tickets at the Irvine Barclay Theatre: Individual tickets for Festival Ballet Theatre's 2018-19 Season are on sale now at the Irvine Barclay Box Office at 949-854-4646 x. 1 or online at thebarclay.org.
Full Season Purchase Discount: 10% discount when purchasing the full package of 3 events prior to the first production.
Ovation
Saturday, October 13 at 7 p.m. Sunday, October 14 at 2 p.m.
Tickets: $39-$45

The Nutcracker
Saturday, December 8, at 2 p.m. and 7 p.m.
Sunday, December 9 at 1 p.m.
Friday, December 14 at 7 p.m.
Saturday, December 15, at 2 p.m. and 7 p.m. Sunday, December 16 at 1 p.m. and 6 p.m. Friday, December 21, at 2 p.m. and 7 p.m. Saturday, December 22 at 2 p.m. and 7 p.m. Sunday, December 23, at 1 p.m. and 6 p.m. Monday, December 24, at 11 a.m.

Tickets: $42-$55 (an additional fee of $25-$30 is added for the Nutcracker Tea Party)

Sleeping Beauty
Saturday, March 23, at 7 p.m. Sunday, March 24, at 2 p.m.
Tickets: $42-$55.

12th Gala of the Stars
August 2019

---