Greer's Blog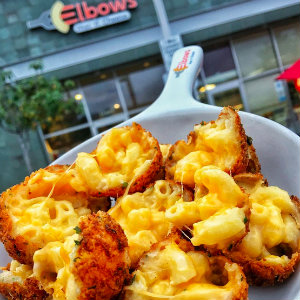 For the Love of Noodles in OC
03.13.17
By Bobby Navarro
We love our noodles. We really, really, really love our noodles. Southern California has gone through a noodle renaissance ten-fold across its melting pot food scene, so the next step logical step is exploring the frontier of ultimate noodle-fusion. And no better time than March, the National Month of Noodles, to find our top picks for noodle dishes reinvented throughout OC. Prepare thine selves.
Committed to noodletarians everywhere, Elbows has brought the ultimate gift for the pasta passionate: Mac n Cheese bites. Forego your forks and dig in hands first with a fistful of these insane deep-fried munchies. Macaroni noodles are dressed in the signature four cheese blend, then breaded and fried to crisp perfection. If your mac desires require something more, go ahead and grab a slice of Mac n' Cheese Pizza. Call it a win-win.
By now you know all about 4th St. Market (You do, don't you? You do.), so it should come as no surprise that we want you to head straight over to Jinny's. The menu is loaded with all kinds of great pies, slices, and garlic knots, but the reason you're here is the spaghetti & meatball pizza. Perfectly al dente spaghetti + meatballs + basil + parmesan = a highly successful piece of pasta-pizza.
Mac and cheese both just reached a whole new level of American comfort food with the Bacon Mac & Cheese Burger from Pig Pen. Candied bacon, house chuck, and a slice of melted cheddar are sandwiched between none other than two mac and cheese "buns." This noodle beast is not for the weak.
Who knew a stellar pasta dish could come from the likes of a boutique oyster bar? Just don't question the Uni Pasta being whipped up for your daily pasta consumption. Squid ink uni pasta isn't anything new, but where else can you watch your uni being shucked right in front of your face? Enjoy buttered ebony strands decked with freshly shucked uni (delivered fresh daily always) and bask in the carbo-glory.
Top Chef Amar Santana took the tapas scene by storm with Vaca's modern Spanish fare. So to tackle noodles in Spanish food, enter Fidegua, a crunchy noodle paella of with crisp leeks, clams, and garlic chive aioli. Just add a Vaca Tonic to that mix and you're done.
---