Greer's Blog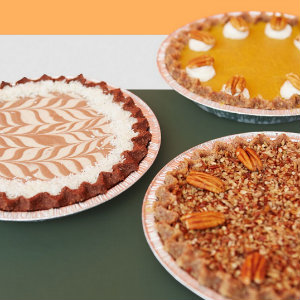 Gratitude's Vegan Holiday Pies To Go
11.10.17
Gratitude in Newport Beach is offering everyone's favorite vegan and gluten-free pies that are perfect for Thanksgiving. Whether you follow a plant-based diet or are entertaining those that do, you can pick up some pecan pies, pumpkin pies, and chocolate coconut cream pies. All pies serve 4-6. Orders must be placed by Monday, Nov. 20 and picked up between 1 to 10 p.m. on Wednesday, Nov. 22.
Gratitude also offers vegan and gluten-free side dishes such as French Lentil and Butternut Squash Loaves; Shaved Kale, Radicchio & Persimmon Salad; Roasted Maple Miso Brussels Sprout, Garlic Mashed Potatoes & Shiitake Gravy.
Gratitude is at 1617 Westcliff Drive in Newport Beach. 949.386.8100.
---