Dining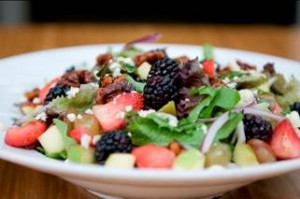 GREENLEAF GOURMET OPENS IN COSTA MESA!
04.24.12
By Sheryll Alexander
We are super excited about the opening of Greenleaf Gourmet Chopshop in Costa Mesa on Monday, Apr. 30. Why? Because we tried out this "gourmet salad" eatery on a family getaway to Beverly Hills last fall and we fell in love with this fast, casual, fresh, relaxed and über organic eating joint.
But perhaps we are more excited about the location (because it just happens to be in our neighborhood!). It seems Greenleaf Gourmet has taken a "natural health center" (aka massage parlor) on bustling 17th Street and is hopefully transforming this garden-like plaza into something cool so locals want to stay and hang awhile. Set back from the corner of Westminster Avenue and 17th Street, Greenleaf Gourmet is in the same plaza at Citibank (directly across the street from Café Rio and Staples).
Now, let's get back to the food. Greenleaf Gourmet Chopshop, which was named one of the city's "best new restaurants" by Los Angeles magazine in 2009, brings premium and custom-made salads, wraps and sandwiches to Orange County. Yeah!
We are also excited that the company's first OC outpost also includes 4,200 sq. ft of space with market, wine bar, indoor and outdoor dining and an on-site chef's garden. Guests can even call ahead (or place orders online) and pick up their meals curbside. Wow!
"I'm thrilled to open Greenleaf in Costa Mesa," says "commander-in-leaf" Jonathan Rollo. "We searched for a great Orange County location for a long time and I couldn't be more excited about how the restaurant turned out. We assembled a talented team to create this beautiful place and now we have the opportunity to introduce our healthy options to Orange County locals for breakfast, lunch, and dinner. And, on the personal side, this is a project of passion for me, because it means my own family doesn't have to drive to LA to satisfy their Greenleaf cravings!"
Some of Greenleaf's signature items are the "antioxidant orchard salad" with grapes, celery, agave-roasted walnuts, dried cranberries, crumbled blue cheese, mint, red onion, cucumbers, and seasonal berries with housemade pomegranate, whole grain mustard vinaigrette ($10.95). There's also lighter versions of specialty salads, including the "buffalo wangs lite salad," which is modified with turkey bacon and grilled chicken tossed in chipotle orange barbecue sauce ($9.95).
Salad lovers can also invent their own creations with over 78 toppings and more than 15 dressings, all made in-house and free of gluten, preservatives, and artificial ingredients. A selection of grilled pizzas and entrées include the wild mushroom and truffle pizza made on a whole wheat tortilla ($9.95) and a housemade turkey burger on a five-grain bun ($10.95).
Guests can start their day with a breakfast menu including a selection of nourishing hot items and fresh grab-and-go options such as a breakfast sandwich with grilled chicken, portobello mushroom, egg whites, aged cheddar, shaved onions, and truffled spinach on whole grain bread ($9.95) or a Cobb omelet with egg whites, turkey bacon, tomato, basil, blue cheese, and avocado pesto ($9.95).
Greenleaf's focus on fresh, locally-sourced ingredients and sustainability is also reflected in the environmentally conscious construction of the location. Design elements incorporate reclaimed, recycled, and compostable materials and green energy initiatives to create an eco-friendly environment. The Costa Mesa outpost echoes the "modern farm stand" aesthetic of the Los Angeles locations, incorporating décor elements by SF Jones Architects, such as reclaimed wood furniture, vintage riddling racks, and other repurposed materials.
The gardens, planted and maintained by Harvest to Home (a local Southern California company specializing in creating organic vegetable and herb boxes and raised bed gardens), will grow a variety of herbs and seasonal vegetables that will be incorporated in seasonal menu specials and available for purchase in Greenleaf's marketplace.
Greenleaf Gourmet Chopshop Costa Mesa is located on E. 17th St. between Orange and Santa Ana Avenues, and will be open for breakfast, lunch, and dinner 8 a.m.-9 p.m. Sunday-Wednesday, and 8 a.m.-10 p.m. Thursday-Saturday. The Greenleaf marketplace will be open 8 a.m.-8 p.m. daily. Guests can place curbside pickup orders by calling 949-200-3950.
Sheryll Alexander runs a news media agency based in Costa Mesa, California.
---