Greer's Blog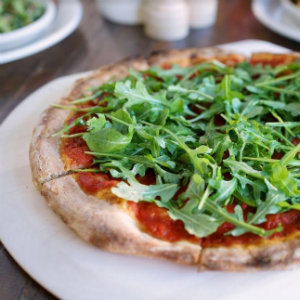 Happy True Year!
01.12.18
It's so easy to eat healthy and delicious foods at True Food Kitchen at Fashion Island. And, now is a great time to get in to try the winter menu featuring seasonally-driven food and winter-inspired cocktails and refreshers. Each dish follows the principles of the anti-inflammatory food pyramid, and its commitment to wholesome, seasonal ingredient and simple preparations so that you can enjoy the freshness and flavor.
New menu items include a bright and beautiful tomato & arugula pizza—a vegan pizza with organic DiNapoli tomato sauce (made exclusively for True Food Kitchen), olive oil and lemon. A cashew pad thai made with kombu, a mineral-rich, low-calorie Japanese seaweed, rice noodles, zucchini, mushroom, eggplant, gai lan, bean sprout, Thai basil and tamarind. It's gluten-free, too. There's also a fresh, flavor-filled Mediterranean chicken pita served on grilled flatbread with romaine, arugula, red onion, grape tomato and harissa tahini, alongside a serving of housemade pickles. And, a light and antioxidant-filled pomegranate mule made with chai-infused vodka, pomegranate, lime and ginger honey.
Open 11 a.m. to 9 p.m. Sunday through Thursday; 10 a.m. to 10 p.m. Saturday; and 10 a.m. to 9 p.m. Sunday.
451 Newport Center Drive in Newport Beach. 949.644.2400.
---