Greer's Blog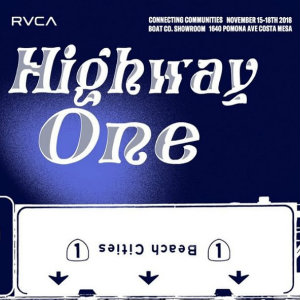 Highway 1, Connecting Communities Art Show
11.13.18
Attention art lovers and locals: We're excited to announce the opening of Highway 1 on Nov. 15 to Nov. 18 from 7 to 11 p.m. at the Boathouse Co. Showroom in Costa Mesa, presented by The Joy Rose and RVCA. Thanks to Newport-Mesa locals Cody Parole, Joe Suzuki, Ross Shwartz, and Joey Duffy III for producing and curating this wonderful display of group art with contemporary, minimal, abstract, surf/skate, tattoo, graffiti and more known as Highway 1. This show flawlessly embodies the essence of the lifestyle of the California Coast and is a must see.
Highway 1 provides a platform for many young up and coming local artists, as well as artists who have already made a name for themselves. It strives to shine a light on all the amazing things people are creating, focusing on the makers and doers, surfers and skaters, who make it a priority to contribute and push their respected communities daily.
Come see the talented Colin McElroy, Murphy Bartling, Joe Suzuki, R.L. Parole, Remio, Joseph Tenore, Yvonne Logan, Sew Aloha, Colin Moran, Grant Noble, Levi Prairie, Robert Guy, River Covey, Sew Aloha, Micheal Cukr, Manny Sayes, Tyler Mumma, Johnny Gargan, Drake Sheehan, Jessie Ortega, Keith Carmichael, Tyler Barbato, Adrian Morris, Morgan Jacobs, Taylor Fanning, Gino Perez, Alex Varasteh, Conor Sweeny, Eric Mufon, Joey Bookout, Jason Maloney, Keifer Cohen Tallboy, Tessa Bourne, Kiyana Tehrani, Jamie Mckernan, Sage Sorochman, DRFTWOOD LA, Eddie Peterson, Morgan Jacobs, Ross Schwartz, Joey Duffy, Kyle Cline, Dragon Nico Saucedo, Joey Stupor, Heidi Judge, Ethan Clayton, Jim Berry, Matt McCoy, Grumpy Greaser, and Emma Critchfield.
The event also welcomes participating vendors; Misters, Mary Joe, Entry Level Sad Eyewear, Mexican UFO, Parole Comix, Buzzy, Pirate Surf, Yoki Shop, Nuku, and Hoffman Supply Co. We're excited about all the great choices.
There will also be music. Prepare to be accompanied by the musical styling of Rankin Blanco, Nino Mom and the Mailman, Big Fun The Line, Maidename, and Dano.
Open 7 to 11 p.m. Thursday, Nov. 15 through Saturday, Nov 17.; 1 to 8 p.m. on Sunday, Nov. 18.
The Boathouse Co. Showroom is at 1640 Pomona Ave. in Costa Mesa.
---