Greer's Blog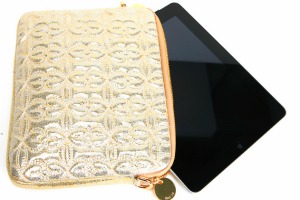 iStyle!
10.12.11
How to tote and protect your iPad in style? We just found a nice resource for fashionable iPad cases for the ladies over the weekend. Not only are most renowned designers such Louis Vuitton, Gucci, and Burberry in on the craze (we favor Marc Jacob's cases, available at Apple, Nordstrom and Neiman Marcus), we're also fans of the Deux Lux collection at Doll Boutique and Gifts in Costa Mesa.

Deux Lux iPad cases and sleeves range from $54 to $66 and the brand also offers glamorous duffle bags with sequin encrusted bottoms, cosmetic bags, wallets, and more. The line is known for their creative colors, unique textures like metallic and quilted glitter, and innovative sparkles and crystal embellishments. Deux Lux is also animal friendly, most of its products are made of soft faux leathers.
Open 10 a.m. to 7 p.m. Monday through Saturday; 11 a.m. to 6 p.m. Sunday.
Doll is at 270 E. 17th St. #5 in Costa Mesa. 949.646.5652.
---