20qs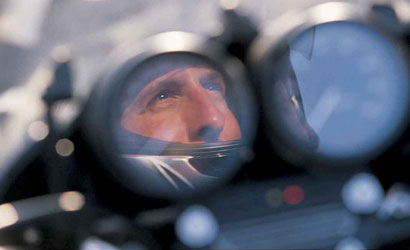 Keith May
12.22.08
1. If you had to begin a different career, what would you do?

Park ranger.
2. What's your most prized possession?

My portfolio.
3. Favorite drink?

Maker's.
4. What are you cutting out due to the economy?

Excess.
5. Fantasy purchase?

Triumph Bonneville.
6. What can't you live without?

Pencil and paper.
7. What's next on your to-do list?

Producing/selling Mesa Theater T-shirts and canvas grocery bags. That image stirs lots of memories.
8. Biggest regret?

Not learning to play guitar much, much earlier.
9. Cause that you're most interested/involved in?

Reclaiming our democracy.
10. Your dream day in OC?

Every day in Orange County is like a dream. We have it pretty good here.
11. Favorite place for breakfast?

Sunday morning at The Rabbit Hole on Irvine Ave. in Costa Mesa: football, $4 Bloody Marys and the best eggs Benedict in town. Shirley's Bagels any day of the week.
12. What was the best day of your life?

The elation of pulling in after a 7,000 mile solo ride on a Harley-Davidson, and completing the best photo-assignment ever still brings a smile. Editing the resulting 40 rolls of film was pretty fun, too.
13. Last concert that you went to?

Beck at The Coach House, but that was many years ago. Nowadays, I'd rather catch some undiscovered talent at local open-mic nights, for free.
14. Favorite vacation spot?

Riding along PCH/101 and stopping wherever/whenever. No schedule. No reservations. Joshua Tree is good, too. Sitting poolside at a swanky hotel bores me. Plenty to see right here in the good ol' USA.
15. What do you love and hate about Orange County ?

Love the climate, but the sprawl is out of control.
16. Favorite books?

I stick to the classics: Steinbeck, Hemingway, Fante, Chandler, London, Kerouac, etc. America was a lot different, then. But I never get bored with Hunter S. Thompson or Philip K. Dick, either. Of the modern writers, Chuck Palahniuk and Cormac McCarthy are pretty good.
17. Favorite restaurants in Orange County?

La Cave. Simple meat and potatoes menu and they know me at the bar. It's been there since 1962 and hasn't changed much. Great hideaway. Literally under ground. If you want veggies, go to Soup Plantation. Nesai and The Wild Rabbit are pretty good, too.
18. Biggest accomplishment?

Surviving as an artist.
19. What's your biggest fear?

Lack of integrity that permeates business and government. Praying Obama changes things. First hundred days will be critical. Lots to do.
20. Secret most people don't know about you?

I was born with three thumbs.
---