Greer's Blog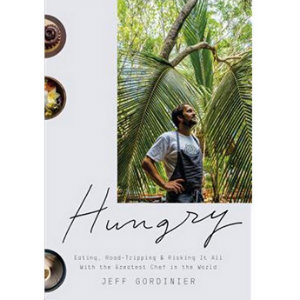 LAGUNA BEACH BOOKS welcomes AUTHOR JEFF GORDINIER
08.16.19
On Sunday, August 18 at 4 pm, Laguna Beach Books welcomes Jeff Gordinier to the store. Jeff will be discussing and signing copies of his new book, Hungry: Eating, Road-Tripping, and Risking It All with the Greatest Chef in the World.
Hungry is a book about not only the hunger for food, but for risk, for reinvention, for creative breakthroughs, and for connection. Feeling stuck in his work and home life, writer Jeff Gordinier happened into a fateful meeting with Danish chef René Redzepi, whose restaurant, Noma, has been called the best in the world. A restless perfectionist, Redzepi was at the top of his game but was looking to tear it all down, to shutter his restaurant and set out for new places, flavors, and recipes.

This is the story of the subsequent four years of globe-trotting culinary adventure, with Gordinier joining Redzepi as his Sancho Panza. In the jungle of the Yucatán peninsula, Redzepi and his comrades go off-road in search of the perfect taco. In Sydney, they forage for sea rocket and sandpaper figs in suburban parks and on surf-lashed beaches.
On a boat in the Arctic Circle, a lone fisherman guides them to what may or may not be his secret cache of the world's finest sea urchins. And back in Copenhagen, the quiet canal-lined city where Redzepi started it all, he plans the resurrection of his restaurant on the unlikely site of a garbage-filled lot. Along the way, readers meet Redzepi's merry band of friends and collaborators, including acclaimed chefs such as Danny Bowien, Kylie Kwong, Rosio Sánchez, David Chang, and Enrique Olvera.
Please note that this is a ticketed event, tickets are $26 plus tax and include a copy of the book. Tickets can be purchased at the store or online at jeffgordinier.brownpapertickets.com.
Sapphire will be serving the following appetizers:
Hummus
Goat Cheese Dip with Herbs, Pickled Garlic, Olives
Labneh with Olive Oil, Toasted Cumin
Grilled Eggplant, Asparagus, Zucchini & Squash
Fresh Cherry Tomatoes
Pita Chips, Lavash, Toasted Baguettes
1200 S Coast Hwy, Laguna Beach.
---