Greer's Blog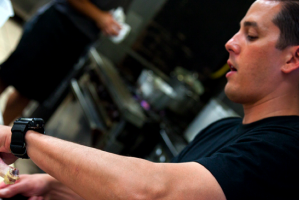 Man Can Cook Too
09.14.12
Give the man in your life, the greatest gift he didn't know he needed: a chance to improve his cooking skills with a locally renowned self-taught chef, Michael Harris. Sign him up for a Man Can Cook class Saturday from 5 to 8 p.m. at Anais+Raya in Costa Mesa. At this Pop Up class Harris will lead students through a simple, three-course meal to make for friends, with Sommelier Mario Luna pairing wines with courses. Although a casual and fun atmosphere is guaranteed, the depth of culinary knowledge shared from these two pros is anything but frivolous.
The menu starts with Hawaiian-style salmon poke; followed by a main course: the perfect steak, with spaghetti aglio e olio, and grilled brussels sprouts with bacon and caramelized onions. Dessert will be the Harris' version of famous Ramos House chocolate pudding.
There are a few seats left, so reserve your spot by $55 pre-payment at the PayPal account mxjxharris@yahoo.ie
The price is all-inclusive, with plenty of dish and wines samples. Everyone will take home a copy of the recipes and stories behind them, and a Man Can Cook collector's item apron.
Anais + Raya is at 435 E 17th St. in Costa Mesa.
Photo Credit David Moyle Photography
---