Greer's Blog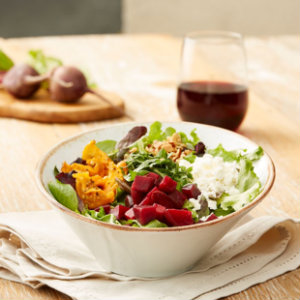 Mediterranean food crafted with care
03.02.18
Was eating healthier one of your New Year's resolutions? You can still make 2018 the healthiest year yet with Luna Grill, where you can eat wholesome Mediterranean cuisine. And with locations in Huntington Beach, Aliso Viejo, Dana Point, Irvine, Lake Forest, and Rancho Santa Margarita, chances are there's one near you.

Luna Grill specializes in signature kabob plates, gourmet salads, appetizers including hummus and falafel, wraps, desserts, craft beer and wine.

One of the hottest items on their menu, the Better Beet Bowl, is jam-packed with vitamins and bold flavor. Perfect for foodies seeking a fresh and healthy meal, this one-of-a-kind bowl features organic spring mix, beets, roasted yellow tomatoes, basil, feta, almonds and signature house dressing. High in antioxidants and known inflammation fighters, beets are the perfect superfood. Pair that with Luna Grill's sampler platter to share with falafel, stuffed grape leaves, couscous medley, hummus and pita bread and you have the perfect meal.

Aliso Viejo Town Center at 26921 Aliso Creek Road in Aliso Viejo. 949.305.1699.
Ocean Ranch Village is at 32525 Golden Lantern, Suite E in Dana Point. 949.481.6800.
Bella Terra is at 7511 Edinger Avenue in Huntington Beach. 714.373.5862.
Newland Center is at 19720 Beach Blvd. Suite 101 in Huntington Beach. 714.377.2000.
The Market Place is at 13774 Jamboree Road in Irvine. 714.352.5544.
Irvine Spectrum Center is at 524 Spectrum Center Drive in Irvine. 949.387.5862.
Twin Peaks Plaza is at 23625 El Toro Road in Lake Forest. 949.770.5862.
University Center at 4143 Campus Drive in Irvine. 949.861.2667.
Westpark Plaza is at 3965 Alton Parkway in Irvine. 949.654.5862.
---