Dining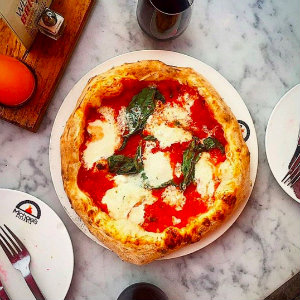 Michael's Pizzeria at Dine Out Long Beach, Restaurant Week 2.0
02.16.17
For anyone who loves pizza, you are in for an incredible pizza experience at Michael's Pizzeria, a sister restaurant to Michael's on Naples rated the #1 restaurant in Long Beach. It boasts two locations in Long Beach: on Naples Island and in Downtown Promenade. And now is the perfect time to plan on dining at Michael's Pizzeria. It's participating in Dine Out Long Beach, Restaurant Week 2.0, the city's premier dining event from February 19-25.
This is not your typical pizzeria, Michael's Pizzeria sources locally grown, organic vegetables, they grow their own herbs and tomatoes, and who else makes their own sausage, sauces, dough, and cheeses from scratch? Michael's Napoli-style pizza is our favorite and each location has gone all out for Dine Out Long Beach Restaurant Week—they each offer completely different menus so that you can go to both!
Michael Pizzeria Downtown Promenade is offering a three course dinner for $30 with choices like Crostini di Bresaola, thin sliced cured beef served with arugula and palm heart in lemon olive oil and topped with parmesan cheese; a Quattro Fromaggi Pizza Con Speck with fontina, mozzarella, parmesan, and smoked mozzarella and speck; and Bread Pudding with Panettone and chocolate bread pudding topped with chocolate sauce. The entire Dine Out Long Beach menu is here.
Michael's Pizzeria on Naples Island is offering a three-course dinner for $20 with choices like Vongole Arrabbiate with sautéed manila clams with Calabrian chili and tomato sauce; Fusilli Al Forna, a pasta with Fontina cheese, sausage, mushrooms and béchamel; and Chianina Burger, a wood-fired Chianina burger with lettuce, red onions, and house aioli; and house made gelato. The entire Dine Out Long Beach menu is here.
210 East 3rd Street in Long Beach. 562.491.2100.
5616 E. 2nd Street in Long Beach. 562.987.4000.
---