Greer's Blog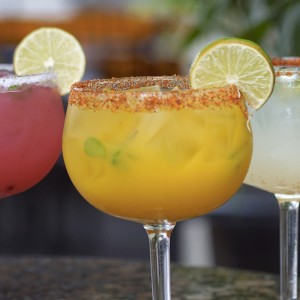 National Margarita Day in OC
02.19.21
National Margarita Day is just around the corner on Monday, February 22. Here's a roundup of the best local spots to enjoy a margarita in celebration of this foodie holiday, including Cha Cha's Latin Kitchen which is offering a special on their signature grande margaritas.
Cha Cha's Latin Kitchen (Downtown Brea + The Irvine Marketplace)
This Monday, February 22nd, make your plans with a grain of salt, a slice of lime, and a shot of tequila to celebrate National Margarita Day! Cha Cha's will be serving their signature $14 grande margaritas all day long. All of Cha Cha's margaritas are made using premium 100% blue agave tequila, freshly squeezed juices, and hand shaken to perfection. For those celebrating at home, order their margaritas by the pint (serves 2-3) and by the quart (serves 4-6), pour over ice, and enjoy! To make reservations or order online, visit http://www.chachaslatinkitchen.com
110 W. Birch St., Brea.
13126 Jamboree Rd, Irvine.
Slater's 50/50 (Anaheim Hills & Huntington Beach)
Slater's 50/50 is known for taking well-known dishes and giving them a unique "slaterized" twist - and their margarita is no exception! Celebrate National Margarita day with the Spicy Pineapple Margarita, a spicy, smokey drink, made with Olmeca Altos Plata tequila, Ancho Reyes smokey chile liqueur, pineapple, and a Tajín-covered rim.
17071 Beach Blvd, Huntington Beach.
6362 E Santa Ana Canyon Rd.
Fly N' Fish Oyster Bar in Newport Beach.
Craving coastal views, fresh seafood and premium libations? Sit back and enjoy the sunshine at this seafood eatery located in the heart of the Balboa Peninsula just steps away from the beach. Its expansive drink menu features several top-shelf sippers including the Newport Margarita made with Hornitos Tequila, Patrón Citronge Liqueur and topped with Grand Marnier - a natural combination for cocktail purists and a true toast to Southern California style.
2304 W Oceanfront, Newport Beach.
DRINK BAR @ Mess Hall Market (Irvine)
Look alive! Mess Hall's Drink Bar is serving up the Red Queen Margarita for National Margarita Day as a bold twist to the OG margarita. Prepared with a tequila red chili mix, this margarita's deep red color makes it stand out from the rest, and the added spice gives margarita lovers a full & zesty flavor profile! Guests can stop by to treat themselves to The Red Queen as they dine on Mess Hall's spacious outdoor patio, enjoying any of the 9 food concepts Mess Hall has to offer!
1705 Flight Way in Tustin.
Old Vine Kitchen + Bar (Costa Mesa)
Enjoy sipping on a handcrafted New Old Vine Margarita while dining on Old Vine Kitchen + Bar's newly reopened patios this National Margarita Day! Crafted with your choice of Blanco, Resposado, or Anejo tequila, mixed with Giffard Curacao and Lime, this refreshing cocktail will be the perfect complement to an evening under the stars!
2937 Bristol St. Suite A-103, Costa Mesa
---