Greer's Blog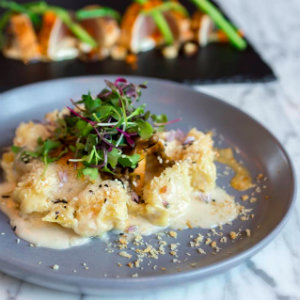 OC Restaurant Week, Our Top 10 List
03.06.17
It's Orange County Restaurant Week! More than 100 OC Restaurants are offering offer special three-course menus, many with a cocktail or signature item at no additional charge now through Saturday, March 11. Our top 10 favorites from the list are an exceptional choice and value.
Orange County landed an exceptional seafood and raw bar restaurant when Anchor Hitch in Mission Viejo opened last year. Chef Michael Pham has created a delicious four-course dinner ($40) that's a great value and seafood-centric, minus the Hangar Steak. You'll have a choice of a clam chowder pot pie, or raspberry prosciutto salad; and an appetizer—choose from Cajun seared albacore, Hamachi chipotle ceviche, or abalone panna cotta. For an entrée, choose from Pan Seared Branzino, Hanger Steak or our favorite, the Tom Yum Agnoletti, an amazing ravioli stuffed with shrimp. Dessert choices include Girl Scout Caramel deLites with Chocolate Coconut Caramel Crumble and Butter Scotch Miso Angel Cake. Anchor Hitch is also offer wine pairing ($20), cocktail pairing ($20), or beer pairing ($15). For the entire OCRW menu visit, here.
27741 Crown Valley Parkway in Mission Viejo. 949.226.8949.
One of Orange County's best chefs, Yves Fournier at Andrei's Conscious Cuisine in Irvine has created a three-course lunch ($20) and three-course dinner ($40) to celebrate the week. You can enjoy specialties such as Portobello Steak Fries, Panko-crusted Portobello Mushroom fries with tarter dip; a Moroccan Wrap with quinoa tabouleh, roasted red bell pepper, avocado, Upton's Chorizo Seitan, Sriracha Chii Hummus, baby arugula and whole wheat tortilla; and the Sea Bass Provencale with pan-roasted Seasonal Seabass, Chorizo, Zucchini, Fennel, Basil-Pesto Risotto Cake, Slow Roasted Tomato Sauce, Pastis, and Toasted Pine Nuts. Andrei's Signature Carrot Cake is a must and it's on both the lunch and dinner menus. You can also enjoy a featured Chambord Cocktail ($12), a La Vie en Rose with Grey Goose Vodka, Chambord, Rose Champagne and Cherry Almond Ice. For the entire OCRW menu visit, here.
2607 Main St. in Irvine. 949.387.8887.
Coastal Kitchen in Dana Point is one of our favorite new restaurants in OC. It's offering a two-course lunch ($20) and three-course dinner ($40) with Starter choices such as their delicious New England Clam Chowder with crisp bacon, and house made croutons; and Pork Belly bites. You'll love their Classic Cheeseburger and Cuban Sandwich with Pork shoulder, Black Forest Ham and Muenster at lunch; and on the dinner menu, go for the Braised Short Rib with roasted Brussels and red cabbage slaw; or Jumbo Lump Crab Cakes with whole grain mustard sauce and red cabbage slaw. The S'mores Pie for dessert is one of our favorites—graham cracker crust, chocolate custard and marshmallow pie. You can substitute a Starter with any draft beer, or glass of house or white wine. For the entire OCRW menu visit, here.
34091 Pacific Coast Highway. 949.449.2822.
Fig & Olive at Fashion Island is also going all out for OC Restaurant Week. Their three-course lunch ($20) and three-course dinner ($50) offer some of our favorite seasonal dishes. You can also add their signature crostini for $8 at lunch or dinner. Choose from Zucchini Carpaccio, Quinoa Salad, and Truffle Mushroom Croquette for starters at lunch; and Fig & Olive salad and Crab Cakes at dinner; and Entrée choice include Grilled Thyme Chicken Paillard, Paella Del Mar at lunch; and at dinner: Chilean Sea Bass and Fig & Olive Tajine. For dessert, you can choose from Dessert Crostini and Chocolate Pot de Crème at lunch; or Chocolate Pot de Crème or Chestnut Mousse with Amarena Cherry at dinner. For the entire OCRW menu visit, here.
151 Newport Center Drive in Newport Beach. 949.877.3005.
Five Crowns consistently makes our list as a top spot to enjoy a Restaurant Week menu. They go all out for the occasion and for ($50) you can enjoy a three-course dinner with choices such as Salmon Tartare, Spinach Salad with beets, blueberries, pistachios, lamb chopper and vincotto; and Crispy Artichoke Hearts with Watercress dressing. Main Choices include your choice of Prime Rib; Linguini with lobster, uni, ramps, lemon and beurre fondue; or Grilled Ribeye Medallion with asparagus, Yukon gold potatoes and sauce aux morilles. Dessert choices include Lemon Steam Cake; or Panna Cotta with strawberries and rhubarb; or CC Browns Hot Fudge Sundae. For the entire OCRW menu visit, here.
3801 E. Coast Highway in Corona del Mar. 949.760.0331.
Award-winning Chef Ross Pangilinan Mix Mix Kitchen Bar in Downtown Santa Ana is making OC Restaurant Week a must by offering four ways to dine! You can choose a a three-course lunch ($20), a three-course Sunday Brunch ($20), a four-course dinner ($40), or a $80 Luxe dinner menu. You can choose from "Snacks" such as Tuna Poke Toast, Local Goat Cheese Toast, Deviled Egg; and "Small Plates" such as Market Vegetable Soup and Filipino Ceviche; and "Plates" such as House Made Pasts, Kobe Burger; and Crispy Duck Leg. He's even added a Girl Scout S'Mores Cookie Parfait dessert with S'Mores Cookie milk panna cotta, S'Mores crumble, Valrhona manjari cremeux, and torched nitro marshmallow nuts. You can view the entire OCRW menu here.
300 N. Main St. in Santa Ana. 714.836.5158.
We love that Moulin's Restaurant Week menu is just $20 for lunch or dinner and you can order it to go from the Newport Beach or Laguna Beach location! The first course is a La Soupe a L'Oignon with house baked baguettes topped with melting Emmental cheese; and for the Second Course, you can take home Moulin's famous slow-cooked rotisserie half chicken with your choice of French Fries, Roasted Potatoes, or Green Salad. Dessert is a French patisserie surprise.
1000 N. Bristol St. in Newport Beach. 949.474.0920.
248 Forest Ave. in Laguna Beach. 949.715.6990.
At Provenance in Newport Beach, you can be treated a special Napa Valley-style three-course lunch ($20) and dinner ($40) from award-winning chef Cathy Pavlos. The salads feature fresh clipped greens from Provenance's gardens and with highlights such as the Spiced Squash, Pumpkin, Butternut and Crispy Artichoke Platter with Applewood smoked bacon, fried cage free egg, roasted shallots, arugula, torched rosemary, pine nuts, chipotle-maple oil; and Provenance Burger, with handcut proprietary blend of 4 premium beefs, gruyere cheese, caramelized onions, grilled garden chard, tomato jam on brioche bun; and the Honey Balsamic Winter Spiced Free Range Lamb Chops with mint gremolata, roasted potatoes, heirloom carrots, spinach, crispy artichoke, and veal demi-glace. Provenance desserts are among the best in OC! We especially love the Mini Apple Pie a la Mode on the Beach with caramelized granny smith apples, bourbon-candied pecan sauce, gingerbread crust, caramel, vanilla bean ice cream, and cinnamon sand. For the entire OCRW menu visit, here.
2531 Eastbluff Drive in Newport Beach. 949.718.0477.
Chef Pascal Olhats at Pascal in San Juan Capistrano is offering a four-course dinner ($50) and he's also offering a $80 Luxe Dinner menu. The first course is your choice of Homemade Pate & Rillette with homemade condiments, Salad Lyonnasie, or Onion Soup. The second course is Sorbet; third course choices include Scottish Salmons Scaloppini with Vermouth sauce and Manassero Farms spring vegetables, or Smoked and Roasted Rack of Lamb with Mediterranean spices. The fourth course is dessert and you can choose from a Lemon Tart, or Chocolate Flourless Cake with caramelized poached pear, or Warm Macanese Tart. For the entire OCRW menu visit, here.
31451 Rancho Viejo Road in San Juan Capistrano. 949.488.0031.
SeaSalt in Huntington Beach is always a great choice and its wood fire grill and Santa Maria cuisine is one of a kind in OC. We love its three-course dinner ($40) that comes with a choice of Cowboy Caviar, Tri Tip Nachos and Pork Belly Mac & Cheese. For your main dish, you have a choice of Santa Maria Tri Tip and Linguisa, Pork Chop, Santa Maria Tri Tip Sandwich and Salmon Steak. Sea Salt's incredible dessert choices include Omar's Banana Pudding or Olive Oil, SeaSalt Ice Cream. For the entire OCRW menu visit, here.
21214 Beach Blvd., in Huntington Beach. 714.804.5545.
---