Greer's Blog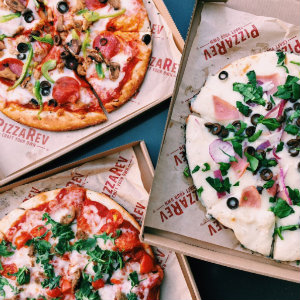 PizzaRev Santa Ana Supports Make A Wish
09.06.17
PizzaRev Santa Ana, a build-your-own, fast-casual pizza concept is celebrating its third year in business by giving back to the Orange County community by partnering with Make-A-Wish® Orange County and the Inland Empire for a month-long fundraiser. In an effort to support Make-A-Wish's mission to grant the wishes of medically-eligible children, PizzaRev SantaAna will donate 20 percent of its September profits to the organization. Additionally, PizzaRev SantaAna will host three Make-A-Wish children and their families for a "Make-Your-Own-Pizza" party.
To celebrate its three-year anniversary, PizzaRev Santa Ana offers three special promotions.
Wing Wednesday – Guests can enjoy 10 traditional or boneless wings, slathered in their favorite sauce (Buffalo, Sweet and Bold BBQ or Mango Habanera), and a beer for $9.99.
Lunch Combo – Monday through Friday, from 11 a.m. to 2 p.m., guests can purchase a Craft Your Own Pizza and soft drink for $8.
The Perfect Pair – Pair any pizza with a beer or wine for $9.95 from 4-6 p.m. and after 8:30 p.m. daily
PizzaRev allows guests to craft their own personal pizza with its organic tomato sauce, fresh ingredients, gluten-free options and homemade dough. All of PizzaRev's pizzas are flame-fired in less than three minutes in a 900-degree stone-bed oven to create a thin, roman-style crust. Healthier options include reduced-fat mozzarella or vegan cheese and gluten-free dough. The Santa Ana location serves unique offerings including buffalo chicken wings, garlic knots, baked meatballs, double pizza crust, garlic bread, wine by the glass and craft beers on tap, all of which can be enjoyed with friends and family on the al fresco patio.
To place an order online, visit pizzarev.com/locations/santa-ana-ca/.
Open daily from 11 a.m. to 10 p.m.
PizzaRev Santa Ana is at 3605 S. Bristol St. 714.708.2534.
---