Greer's Blog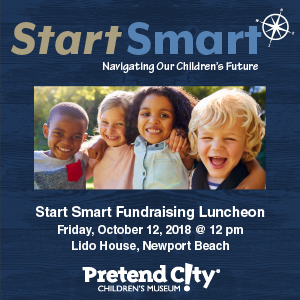 PRETEND CITY CHILDREN'S MUSEUM 'STARTS SMART' ANNUAL FUNDRAISING LUNCHEON
10.09.18
Pretend City Children's Museum is holding its annual Start Smart Luncheon on Friday, October 12 at Lido House in Newport Beach. The Start Smart Luncheon is one of two annual events with proceeds funding resources for the educational nonprofit.
'Start Smart' brings together 150 champions - corporate and community leaders, education experts, and donors - who understand that healthy child development, early intervention, and play are critical for school readiness and a thriving workforce and community. Start Smart is on a mission to ensure every child is ready for school success by providing immersive learning experiences that children need to develop essential foundational learning skills
Only 50% of Orange County's children across all socio-economic levels are developmentally on-track when they enter kindergarten and studies show that many don't catch up by third grade.
The event will provide an engaging dialogue with Dr. Laura Jana, author of The Toddler Brain, and Dr. Gregory Washington, Dean of the Samueli School of Engineering at the University of California, Irvine.
Tickets to the luncheon cost $150 per person and are available here.
For more information on the museum and its programs, visit PretendCity.org.
The Lido House Hotel is at 3300 Newport Blvd. in Newport Beach.
---