Greer's Blog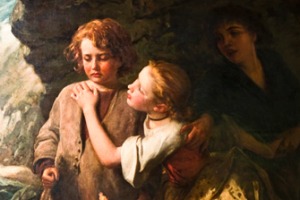 Royal Masterpieces
10.24.11
Muzeo in Anaheim just opened the Queen's Gallery, a world premiere exhibit that takes you back in time to Victorian England with more than 60 masterpieces by leading artists of the Victorian era. The collection is on loan through Jan. 8. 2012 from two highly respected and passionate collectors in Orange County, Dr. Howard and Linda Knohl.
Their private collection features art works from this period that reflect tumultuous social and political change, scientific discoveries and accelerated imperial expansion. Included in the exhibit is a masterpiece by James Sant, official portrait artist to Queen Victoria, as well as paintings by Sir Lawrence Alma Tadema, one of the most famous artists of this period. Also featured is a watercolor by Corbould, the Royal Family's painting instructor, and art influenced by ancient legends and Greek myths.

The exhibit includes more than 400 personal and decorative objects from the British Empire such as walking sticks, weapons, match safes, music boxes, ivory sculptures, bronze statues, household necessities and fashion accessories.
Cost is $13 for adults and $9 for children. Open 10 a.m. to 5 p.m. Wednesday through Sunday. Muzeo is at 241 S. Anaheim Blvd., in Anaheim. 714.956.8936.
---