Greer's Blog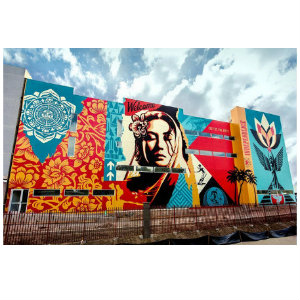 SHEPARD FAIREY'S MURAL In Costa Mesa
10.11.17
World-renowned street artist Shepard Fairey just completed the largest mural of its kind in Orange County on the west and south-facing walls of the new Baker Block development in Costa Mesa. It's visible from the 55 freeway. The mural, named "Welcome Home," covers nearly 8,000 square feet and is a reflection of Baker Block's commitment to both Costa Mesa's artistic community and surf-skate culture.
Fairey, whose OBEY worldwide headquarters is also located in Orange County, started the project in September.
The design features several different visual motifs and themes that are often present in Fairey's work such as surf culture, and the interaction of people and nature. Along with several painters on his team, Fairey built upon a series of floral patterns, geometric lines and shapes, mandalas, nature, water, wings, and a female figure for this piece. At 136-feet long by 55-feet high, the mural required more than 460 cans of spray paint to complete.
When completed in November, Baker Block will feature 240 residential apartments and a six-story above ground parking structure. Amenities include a rooftop deck, a fitness center with yoga room, a conference room, a Wi-Fi lounge, a dog park, a dog wash station, a club room with a kitchen, a bike storage and maintenance area, and multiple outdoor spaces with a resort-style pool, BBQ grills and fire pits. Baker Block leasing begins in November, updates and specials can be found at www.livebakerblock.com.
Baker Block is at 125 East Baker Street, at the corner of Pullman Street.
---