Greer's Blog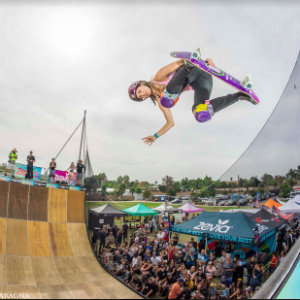 Skate Competition With Top Female Skateboarders
10.31.19
Vans Off the Wall Skatepark in Huntington Beach will feature 200 top female skateboarders from around the globe competing for a $65,000 prize purse in the 8th annual Exposure: A Women's Benefit Event on Saturday, November 2.
This free, all-day event takes place from 9 a.m. to 8 p.m. and offers spectators an interactive vendor village, a life-size game zone, t-shirt and jewelry making stations, a Woodward learn-to-skate clinic and many more fun activities.
Every spectator has a chance to win one of 100 skateboard and helmet packages just by coming to watch. These activities coupled with action-packed skating make this year's Exposure event a great way for families and individuals of all ages to spend the day. All event proceeds will benefit local nonprofit Human Options, the most comprehensive relationship violence service provider in Orange County.
Since its inception, the Exposure event has grown into the largest skateboarding event for amateur and professional female skateboarders: opening access, visibility, and growth to skateboarding as a whole. This year alone, participants are traveling from over twenty countries to compete in one or more of the following contests that will take place throughout the day: the Oil Nut Bay Street Contest, the Zevia Vert Contest, the Bones Love Milk Park Contest, Camp Tanuga's Highest Air as well as high dollar pro best trick and longest grind events in multiple disciplines.
Vans Off The Wall Skatepark, 7471 Center Ave. in Huntington Beach.
---