Greer's Blog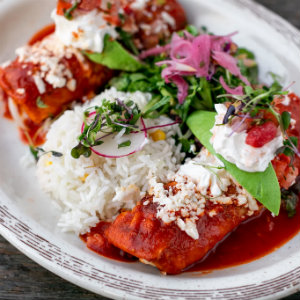 Just in time for The Great American Takeout 2
03.31.20
Just in time for The Great American Takeout 2, Sol Agave at Kaleidoscope in Mission Viejo has launched curbside take-out from 11 a.m. to 7 p.m. daily, as well as delivery through Doordash. The award-winning Mexican restaurant is offering an abbreviated menu of its favorites, and all purchases $40 and higher will receive a free butter cake.
The take-out and delivery menu include a Sol Bowl (organic mix greens, frijoles de la olla, rice, aioli, guacamole, pico, queso, and a choice of skirt steak, chicken, carnitas, mahi-mahi or veggies); Sol Agave Salad (organic greens, sautéed peppers and onions, roasted corn, jicama, avocado, queso fresco, balsamic vinaigrette and a choice of chicken, steak or shrimp); Burrito Mojado (rice, beans, cheese, pico de gallo, chicken or steak, and red or green sauce); Taquitos Al Gusto (manchego cheese rolled in corn tortillas and served crispy over shredded greens and topped with sour cream, guacamole and "trocka" salsa, along with a choice of chile Verde or short ribs); Shrimp Taquitos (jumbo Mexican shrimp stuffed with a creamy Dungeness crab filling, wrapped in a crispy corn tortilla and served with roasted pepper aioli and cilantro aioli).
There's also Tacos de Honga (skirt steak, portobello mushrooms, grilled onions, and cheese served on a hot skillet, and served with salsa morita, rice, refried beans and hand-made tortillas); Chile Verde (slow-cooked pork in their chef's special tomatillo and onion sauce, Veracruz white rice, and hand-made tortillas); Sol Agave's Signature Famous Carnitas (chef's famous Mexican braised pork, served with rice, refried beans, sour cream, guacamole, salsa cruda, and hand-made corn tortillas); Chile Colorado (slow-braised short ribs in a red roasted chile and beer sauce, served with Veracruz white rice and hand-made tortillas); and Fajitas De la Casa (sautéed peppers and onions, sour cream, guacamole, rice, refried beans and handmade corn tortillas with a choice of chicken, steak or shrimp.)
In addition, Sol Agave has launched its own Agave Mexico margarita mix, so customers can make their own margaritas at home. The premium mix is $8 for a bottle, or buy three for $20.
Sol Agave is located on the top level of Kaleidoscope at 27741 Crown Valley Pkwy., off the 5 Fwy. in Mission Viejo. For more information, call 949.446.8058 or visit solagave.com or order through Doordash.
Riptide Rockin' Sushi & Teppan Grills, one of South County's most popular sushi restaurants, is open for take-out with curbside pick-up, their own delivery service or through Doordash or Uber Eats. The Mission Viejo restaurant is open nightly, except on Mondays and Tuesdays. Pick-up starts at 5 p.m., and phone orders can be placed starting at 4 p.m. Visit their website or call 949.282.0181.
Riptide Sushi is located in Kaleidoscope at 27741 Crown Valley Parkway, Mission Viejo.
RTE (Ready to Eat) BBQ, is offering a Take-Home Ramen Kit selling take-home ramen kits which are delicious as well as fun for the whole family! Available by pre-order only, the kits include noodles, soup, bamboo shoots, nori, and scallions. A 3-serving pack is $18; the 5-serving pack is $25, and the 10-serving pack is $45. Text them for more information and to place an order: 949.229.6879.
RTE is located inside Union Market Mission Viejo at Kaleidoscope at 27741 Crown Valley Parkway, Mission Viejo.
---