Greer's Blog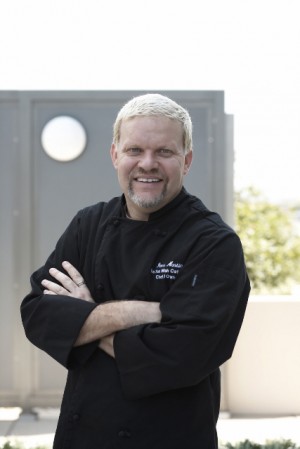 Spend Sunday afternoon with two amazing chefs!
10.14.09
At Zov's Bistro in Tustin you can spend an afternoon with Chef Dave Martin from season one of Bravo's "Top Chef" and chef/owner Zov Karamardian Sunday at 11:30 a.m. The duo will be performing a live culinary demo and hosting an intimate three-course lunch. The demo and lunch is priced at $75 per person. Space is limited and reservations can be made by calling Connie Tran at 714.838.8855, ext. 21. Zov's Bistro is at 17740 E. 17th St. in Tustin. .
Chef Martin will demonstrate signature dishes, including his famous black truffle mac and cheese, cider-marinated pork tenderloin with hoisin and fresh apple cider with apricot and mango chutney, roasted wild mushroom mashers and brussel sprouts. For dessert pumpkin panna cotta with gingerbread cookie.
And here's his famous recipe:
Dave's Black Truffle Mac 'n' Cheese
Yields 12-15 orders (10 oz ramekins)
Ingredients:
1 cup shallots (robo coupe)
24 cloves of fire roasted garlic
8 cups (64 oz ) of cream
3 Tbsp fresh oregano , chopped and cleaned from stems
3 Tbsp fresh thyme, chopped and cleaned from stems
½ cup sherry
½ cup brandy
6 Tbsp black truffle shavings and liquid from the can
2 cups of good parmesan
½ cup white truffle oil
2 tsp Tabasco
2 eggs (LIASON slowly in separate container with hot liquid from stovetop and do not curdle or cook eggs then add back to the stovetop mixture)
2 tsp kosher salt
2 tsp black pepper
3 cups grated Fontina cheese (fine grate not large)
3-4 cups seasoned bread crumbs
2 lbs cooked and drained Gemelli noodles (be sure to cook in salted water)
Method:
Caramelize shallots with fresh herbs and then add roasted garlic and deglaze with sherry and brandy then let truffles infuse and let mixture cook down on stovetop for about 30 minutes until the cream is reduced and thickened. Drain pasta from stovetop and then mix in fontina and parmesan along with the reduced cream and then top place into ramekins and top off with seasoned bread crumbs and bake at 350-400 degrees until heated all the way through and serve.
---