20qs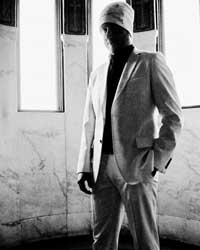 "Spider" Ron Entwistle
05.03.09
www.myspace.com/spiderwerksinternational
1. What character in a movie or book do you most identify with?

Robert Duvall plays the role of THX 1138 in the George Lucas film of the same name. This character suspects that the "reality" presented to him, and the society at large, is false, so he sets out discover his true nature.
2. What do you do to relax?

Work! Whether writing a song, producing an album, or doing a remix, work is not the opposite of play.
3. Favorite vacation spot?

Table Rock in Laguna Beach (across the street).
4. Where haven't you been that you're dying to go?

Barcelona. I'm told the Spaniards now how to live. "Life is to live, only."
5. What's your next major goal in life?

To launch the OC and LA chapters of the Entwistle Dining Club, evidence of my epicurean moonlighting.
6. Who had the biggest influence on your life?

Obviously, my parents. Then Steve Jobs, Bob Moog, Les Paul, Nikola Tesla, Ben Franklin, etc...
7. Favorite drink?

Water.
8. Favorite restaurants in Orange County?

The Winery in Tustin, Lucca Cafe in Irvine, Eva's Caribbean Kitchen in South Laguna.
9. Last major purchase?

A new Mac Pro.
10. Dumbest investment?

Income tax.
11. A famous person you love to meet?

Sir Ken Anderson, Malcom Gladwell, Alex Jones.
12. Biggest accomplishment?

Not having a job since I was 19 years old.
13. What's your biggest fear?

Being diagnosed with Leukemia and HIV while at a Miss Universe Pageant in Puerto Rico... again!
14. Who is your favorite artist?

Rene Magritte
15. If you had to begin a different career, what would you do?

International man of leisure.
16. Secret most people don't know about you?

I signed a recording contract with Elektra Entertainment Group in 1999 under the name, 1plus1.
17. Who is your favorite fictional character?

George Costanza, Tyler Durden, Steve Zissou.
18. Your biggest extravagance?

Fine dining and classic German convertibles.
19. What's your favorite CD?

Right now, it's a record I just finished called "Touchez-Moi" by Alexandra Edenborough. Industry legend Charlie Midnight's lyrics are playfully esoteric and heartbreaking, and Alex's voice is mesmerizing. It's an honest and classic-sounding record that was mostly recorded live. The response has been phenomenal.
20. What was the best day in your life?

That day will arrive with my first child.
---