Greer's Blog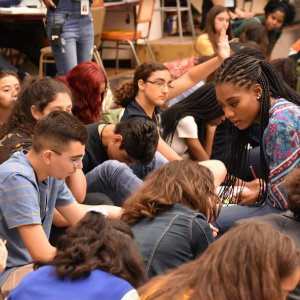 Summer Opera Camp
07.31.19
LA Opera invites you to experience the culmination of Summer Opera Camp where students will perform Then I Stood Up: A Civil Rights Cycle on Saturday, Aug. 3 at 1 pm. and 4 p.m. shows.
A beautiful and especially meaningful production features stories of social justice through lessons of World War II's Terezin concentration camps and Japanese internment camps, and the 1964 Civil Rights Act. These amazing children spent three weeks in an intensive summer program, where they learned about the real-life story of the opera, took field trips, and heard directly from people who lived the history, including Carlotta Walls LaNier, the youngest member of the Little Rock Nine.
Opera Camp brings together 80 children from all over Los Angeles County, ages 9 to 17, for three intensive weeks each summer to work with professional opera artists, culminating in public performances of a children's opera.
In addition, this year's Opera Camp students were visited by various notable guests during their training including:
Carlotta Walls LaNier, youngest member of the Little Rock Nine, who was the first African-American student ever to attend classes at Little Rock Central High School in Little Rock, Arkansas in 1957. Carlotta is also featured, as a character, in the opera the students will be performing on August 3.
2019 Miss America (and trained opera singer) Nia Franklin Chaka Forman, Civil Rights Workshops Presenter: Chaka's father is James Forman Sr., a pioneer in the American civil rights movement, and his grandmother is acclaimed British author and muckraker Jessica Mitford. In association with the Foliage Theatre Project, he organizes a Shakespeare performance workshop with incarcerated juveniles.
Dorothy Chandler Pavilion's Stern Grand Hall - 135 N Grand Avenue in Los Angeles.
Image by Taso Papadakis
---