Greer's Blog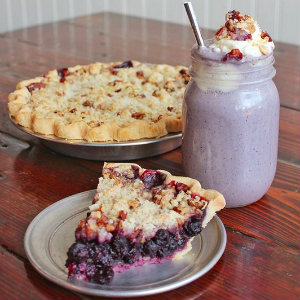 Summer's Best Pies at The Pie Hole
06.10.19
Kick off the unofficial start to summer at the Pie Hole in Old Towne Orange, or at any location in SoCal: Arts District, Hollywood, Glendale, Venice Beach, Long Beach, Pasadena, and Rancho Cucamonga. This Summer's happiness is found inside the Blueberry Crumble Pie (hand-made butter crust filled with blueberry filling, a hint of citrus and spice and topped with rich pecan crumble).
If it's not warm enough outside for you yet, try the pie heated - a la mode style, or cool off when it gets hot and get the Blueberry Crumble Pie to go – in a Slice Cream Shake (Blueberry Crumble Pie blended with ice cream, whipped cream and topped with a pecan crumble)! Or, enjoy The Pie Hole's Key Lime Pie or the Strawberry Rhubarb Pie when you celebrate National Strawberry Rhubarb Pie on Sunday, June 9.
The Pie Hole also offers Gluten Free, Vegan Coconut Cream Pie, a perfect treat that will help you feel good, too!
The Pie Hole is there to serve you happiness one breakfast item at a time – all day! Build the most important meal with Lemon Zucchini Bread, Ham & Cheddar or Kale & Gruyere Quiche Bites, House Made Granola & Fresh Berries and get your day going with a Rose or Honey Lavender Latte, or Nitro Cold Brew Coffee on tap.
You can view hours and locations here.
Open 8 a.m. -10 p.m. Monday to Wednesday; 8 a.m. -11 p.m. Thursday; 8 a.m. -12 a.m.
Friday and Saturday; 8 a.m. -11 p.m. Sunday.
177 N Glassell St in Orange. 657.236.4100
---