Greer's Blog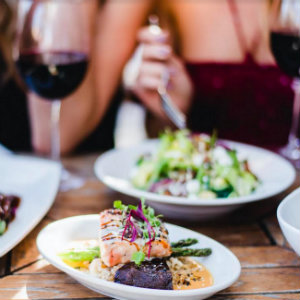 Sweet Specials at Top Eateries in OC
02.06.18
Still on the hunt on where to celebrate Valentine's Day with your loved one? We'll be offering a round-up of top picks in the next few days. Each one will be offering a special dishes to make your night memorable.
K'YA BISTRO BAR
K'ya Bistro Bar will be offering a special four-course dinner menu for $99 per couple this Valentine's Day. Boasting small plates with an emphasis on sharing, K'ya makes for the perfect interactive romantic date night. The bistro will offer signature dishes such as the Braised Short Rib with mashed potato, spinach, and porcini mushroom sauce. This Laguna restaurant is located within earshot of the crashing waves inside the historic La Casa del Camino hotel and reflects a lively San Francisco atmosphere. For more information, visit kyabistro.com or call 855.990.0281. 1289 S. Coast Highway in Laguna Beach.
OLD VINE CAFE
The award-winning European-inspired restaurant at The Camp in Costa Mesa will be offering a choice of three expertly crafted 4-course chef menus with wine pairings for $95 per person this Valentine's Day. Guests will have an option of The Original Tasting Menu featuring sea scallops, Tagliatelle Al Pomodoro, Filet Mignon, and cheesecake with wild berry puree; The Beer Pairing Menu featuring sea scallops, Red Beans & Farro, House Baked Corn Bread with Pulled Duck Leg and pistachio biscotti; or The Vegetarian Tasting Menu featuring baby spinach salad, a wild mushroom medley, polenta, and pecan tartlets. Reservations are required and can be made by calling 714.545.1411. Old Vine Cafe is located at 2937 Bristol Street, Ste A-102, in Costa Mesa. For more information visit OldVineCafe.com.
WAYS & MEANS OYSTER HOUSE: 
Champagne and oysters are always a safe bet when it comes to aphrodisiacs, but when you add an oceanfront dinner with sunset views to the mix, you're taking Valentine's Day to a whole new level. Couples can enjoy a romantic, fun and interactive experience together at Ways & Means Oyster House without the headache of pre-set menus. The oyster house will be offering guest favorites such as the signature Ways & Means East and West Oysters, served with champagne mignonette and lemon to enhance the ocean-fresh flavors of the oysters. Guests will also be able to imbibe a special Valentine's Day-themed cocktail: Rose in the Thorns with gin, rose, basil, lime, and tonic (photo below). For more information, visit wmoysters.com/ or call 714.960.4300. Located a 21022 Pacific Coast Highway in Huntington Beach.
CHA CHA'S LATIN KITCHEN:
Cha Cha's Latin Kitchen, with locations in Brea Downtown and Irvine, is celebrating Valentine's Day with a special three-course menu featuring signature dishes for $33 per person. Perfect to share with your date, the Ceviche Combination is a duo of shrimp ceviche and ahi aguachile or opt for your own appetizer. Select an entrée course, with selections including lobster tacos with maseca dusted lobster tail served with jalapeño creme drizzled on top or the Pan Seared Striped Bass served with guajillo vinaigrette, cauliflower puree, pasillas and chorizo. Finishing the night with dessert for two – the Chocolate Decadent Brownie with white chocolate horchata sauce, fresh strawberries and vanilla ice cream is a fan favorite. To reserve a table for Valentine's Day, please visit ChaChasLatinKitchen.com.
THE BLIND PIG KITCHEN + BAR:
The Blind Pig Kitchen + Bar located in Rancho Santa Margarita is offering a special five-course prix fixe dinner for $85 per guest this Valentine's Day. Watch the sunset on the romantic waterfront patio while enjoying a fresh craft cocktail and delicious fare prepared by Executive Chef Karl Pfleider. To learn more, or make a reservation for Valentine's Day please visit theblindpigoc.com or call 949.888.0072.
BRUNOS ITALIAN KITCHEN:
For Valentine's Day this year, Brunos Italian Kitchen in Brea Downtown is offering a special three-course dinner for $55/person. Begin the meal with the Crudo of Japanese Hamachi (served with shaved fennel, farmer's market apples, radish and preserved kumquat vinaigrette. For the second course, select from a number of options, with the Pappardelle Bruno as one of the highlights - braised short ribs paired with roasted mushrooms and homemade pappardelle. Select a dessert to share with your Valentine – you can't go wrong with the Budino al Caramello, a caramel pudding with chocolate ganache, whipped cream and hazelnuts. To make your reservation, visit brunosbrea.com or call 714.257.1000. Brunos Italian Kitchen is located a 210 W. Birch St.in Brea.
ANDREI'S CONSCIOUS CUISINE & COCKTAILS:
Andrei's Conscious Cuisine is celebrating Valentine's Day with a $65 three-course prix fixe menu, with an optional $25 wine pairing. The Oyster Duo, with Washington Shigoku and Kumamoto oysters on the half shell with cucumber mignonette and horseradish cocktail sauce, is the perfect starter. Entrée options include the Australian Barramundi, New Zealand Rack of Lamb, Vegetable Ravioli and more. Complete the meal with the Poem for the Senses dessert, with Chambord-scented dark chocolate mousse, chocolate-dipped black fig, pomegranate macaron and fig balsamic. To reserve a table, please visit andreisrestaurant.com. Andrei's is located at 2607 Main Street in Irvine.
Image Style Report Magazine
---