Greer's Blog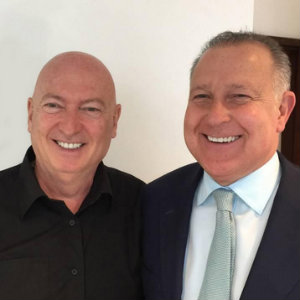 That's What Friends Are For Fundraiser
04.18.17
Sir Bruno Serato, known for feeding 2,200 needy kids each day from the kitchen of his celebrated Anaheim White House, and Garth Blumenthal, general manager of Fletcher Jones Motorcars will witness the true meaning of their friendship as they face the aftermath of a tragedy together.
Serato's restaurant, where most of the food for the children is prepared each day, was decimated in a recent fire. When Blumenthal learned of the tragedy, he was among the first of Serato's friends who pledged to help rebuild the historic structure. Though Serato has fire insurance, it isn't nearly enough to rebuild it back to its former glory.

So, on Thursday, April 20 from 6 to 9 p.m., Blumenthal is inviting the public to attend "That's What Friends Are For" fundraiser at Fletcher Jones Motorcars that will feature live entertainment, hors d'oeuvres prepared by White House Catering, complementary wine and live auction items such as dinner with Serato & Bill Handel of KFI Radio. Tickets are $100 each.
"I was just a busboy at La Vie en Rose in Brea when I first met Garth. We were both expats just getting a feel for America and I think that's what really sealed our friendship," said Serato. "He was there every step of the way when I bought and renovated the restaurant and he continued to show his support by patronizing frequently. I am so grateful to Garth for holding this fundraiser…it means the world to me."

For more information and to RSVP, visit fjmercedes.com/thatswhatfriendsarefor/
Fletcher Jones Motorcars is at 3300 Jamboree Road in Newport Beach.
---