Greer's Blog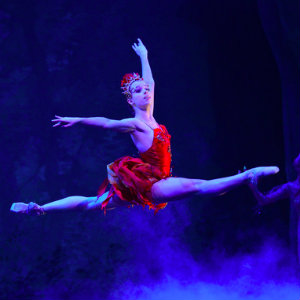 The Firebird at the Irvine Barclay Theatre
10.09.19
The Firebird performing on Saturday, Oct. 12 at 7 p.m. and Sunday, Oct. 13 at 2 p.m. at Irvine Barclay Theatre is a spellbinding story of heroism and romance. Based on a Russian folk tale, The Firebird is a captivating tale of a magical glowing bird and a prince who enters an enchanted world.
Follow Prince Ivan and the Firebird as they join forces to break the evil spell of Kashchei, the wicked magician. Originally choreographed by Michel Fokine in 1910, this one-act ballet is set to the music of Igor Stravinsky. This production of The Firebird was choreographed for Festival Ballet Theatre by esteemed choreographer Nikolai Kabaniaev in 2010.
The performance will include excerpts from the Ballet Russes treasures:
Chopiniana: A ballet with no plot about a young poet in the world of the Sylphides was choreographed by Michel Fokine in 1908 to music by Frederic Chopin.
Frescoes: An excerpt from The Little Humpbacked Horse where the figures are brought to life from painted Frescoes was choreographed by Arthur Saint-Léon to music by Cesare Pugni.

Scheherazade: A piece based on the tales of the One Thousand and One Nights. Originally choreographed by Michel Fokine in 1910, to music by Nikolai Rimsky-Korsakov. This piece was choreographed by Tara Ghassemieh Luiz & Vitor Luiz.
Tickets available at $35 – $45.
Irvine Barclay Theatre is at 4242 Campus Drive in Irvine.
---