Greer's Blog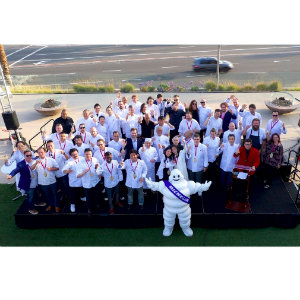 Two Costa Mesa Restaurants Receive Michelin Stars
06.04.19
Yesterday some of the state's most renowned chefs gathered at the Paséa Hotel & Spa in Huntington Beach for the highly anticipated selection of star awards in the 2019 Michelin Guide California, the first-ever statewide Michelin Guide.
And, the big surprise and excitement came when two Costa Mesa restaurants and their chefs were awarded a One Star from Michelin and the coveted chef's coat! Hana Re and Chef Atsushi Yokoyama along with Taco María and Chef Carlos Salgado were selected amongst 90 restaurants in California. They were the only two selected from the 34 cities in Orange County. Michelin's One Star classification states "high-quality cooking, worth a stop."
Michelin Guide reps say "Hana Re provides supreme quality in its sushi offerings, and Taco María delivers a deeply flavorful and memorable meal setting the tone for an amazing experience. A Michelin Star indicates the restaurant and chef provide a consistent, high-quality experience that brings patrons back again and again for the dining experience.
Hana Re focuses on an omakase format in an intimate dining experience where there are just two dining tables and one chef's table for 10. Hana Re's Chef Atsushi Yokoyama was also recognized as Chef of the Year by the Orange County Register when he opened in 2016.
Taco María is known for the house-made heirloom masa tortilla and a la carte lunch, which includes a selection of tacos. A four-course, prix-fixe dinner menu is offered five nights a week featuring a seasonal selection of locally sourced prime meats, fresh seafood, and unique desserts all prepared meticulously in an open kitchen in this cozy corner restaurant at SOCO and The OC Mix. Chef Carlos Salgado is a three-time semifinalist for the coveted James Beard Award, and in 2018, Taco María was named Restaurant of the Year by the Los Angeles Times."
The 2019 MICHELIN Guide California is available now in English, Spanish and Chinese at guide.michelin.com and will be available in print from major U.S. booksellers on June 6.
---