Greer's Blog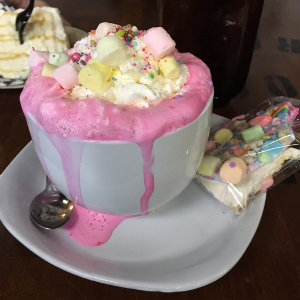 Unicorn Hot Chocolate, Oh My!
03.02.17
By Asma Mohammed
Rainbow themed food items have become somewhat of a trend lately and Crème & Sugar in Anaheim has created a beautiful work of art that is unicorn hot chocolate. Vanilla and white chocolate flavors are at play in this hot, pink drink. Pink hot chocolate topped with house made yellow whipped cream and multicolored, pastel, fruity mini marshmallows, tons of colorful, pastel sprinkles, and edible glitter dust.
It's as delicious as it is beautiful. This colorful concoction will even pull in the chocolate purists with its awe-inspiring slew of colors and flavors that go beyond traditional hot chocolate. This item is technically on the restaurant's secret menu, but asking for it by name will get you exactly what you're looking for.
Open 9 a.m. to 9 p.m. Tuesday to Sunday.
6312 E Santa Ana Canyon Road in Anaheim. 714.941.9059
---