Greer's Blog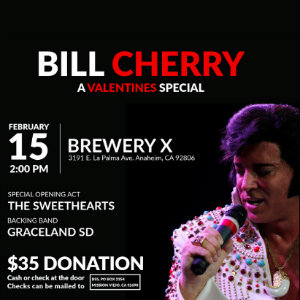 Valentine's Day Charity Event for Breastlink-With Bill Cherry
02.12.20
Calling all Elvis fans! A special 2020 Valentine Charity event to benefit Be Aware Foundation is coming up on Saturday, February 15 at 2 p.m.at Brewery X in Anaheim. Starring the incredible Bill Cherry backed by The Graceland Band SD, with a special opening act, The Sweethearts.
Brewery X is an independent craft brewery, located in Anaheim on the La Palma Beer Trail.
The Be Aware Foundation is dedicated to saving lives by educating and inspiring women to follow early detection guidelines for breast cancer.
Donations at $35, cash or checks at the door.
Brewery X is at 3191 E. La Palma Ave. in Anaheim.
---