Greer's Blog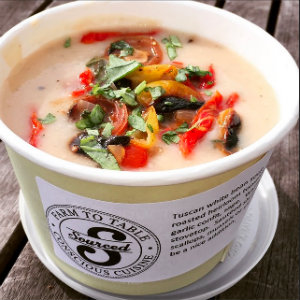 vegan farm-to-table food delivery
10.19.15
Too busy to cook, but want to eat fresh and healthy foods? We just discovered a new vegan farm-to-table food delivery service, Laguna Beach based Sourced Conscious Cuisine from Chef Jon Pflueger, formerly of Vertical in Laguna Beach, as well as The Ritz, Ritz-Carlton, Hush and Montage and Jessica McLeish, a raw food specialist.
Sourced Conscious Cuisine delivers a weekly box of prepared vegan meals made with the freshest available produce sourced from organic and hydroponic farms in Orange County. All meals are gluten-free and made without refined flours or sugars. A new menu is offered each week created with the freshest produce available.
Just this week Sourced Conscious Cuisine is offering an arugula, beet, leek and walnut salad; a Greek salad with Romaine, almond "feta"; Cauliflower soup with balsamic glazed red onions, wilted lettuce; a posole stew with white hominy, smoked ancho chiles and epazote; tomatoes stuffed with white mushrooms and sage leaves; stuffed and braised potatoes, julienned vegetables; white corn grits, turnips, portobellos, braising greens; spagetti squash, basil pesto; almond date bites and raw peach tartlets.
Each Sourced Cuisine box includes a variety of ten plant-based items with entrees, sides, salads, soups and delicious desserts. All the food is vegan, some meals are raw, and all are made with the produce grown free of chemicals at local farms such as Manassero Farm, Smith Farm, Alegria Farm, OC Produce in Irvine and South Coast Farm in San Juan Capistrano.
The packaging is even recyclable and compostable. Each box is $145, which includes delivery in Orange County.
You can find out more and order here.
---