Greer's Blog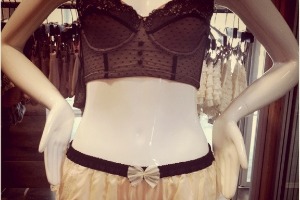 Vintage Inspired
08.26.11
At Briana Rene, one of the newest boutiques that just opened at the OC Mart Mix in Costa Mesa, expect to find vintage inspired lingerie, handmade jewelry and unusual designers that you're not going to find everywhere else.

Owner and designer Briana Ellison has been designing jewelry (earrings, leather pieces and necklaces) for several years, and just started a lingerie line that includes "bloomer bottoms"--sort of a boy short, yet super feminine and fuller cut.

She also carries a Pretense t-shirt line made in Costa Mesa from organic cottons and dyes; as well as a men's wear line for women called Maison Scotch from Amsterdam with intricate details that you don't see often; vintage inspired Dirty Dolls lingerie with 1940's high-waisted panties and more; and J.P. Mattes bags made from recycled saris.

Open Tuesday through Saturday from 11 a.m. to 7 p.m. and noon to 5 p.m. Sunday.
3313 Hyland Ave. in Costa Mesa. 949.290.4829.
---