Dining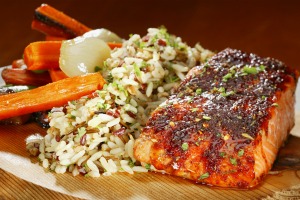 WILD SALMON SEASON COMES TO KINGS FISH HOUSE!
07.19.11
By Sheryll Alexander
King's Fish House, which has two OC locations at Huntington Beach's Bella Terra Mall and near Anaheim Stadium, is now offering super fresh in-season wild Alaskan salmon. We recently taste tested some of these salmon dishes (along with excellent white wines by the glass) and we decided King's Fish House is one of OC's best seafood restaurants.
With a menu that changes twice daily for lunch and dinner, King's Fish House is a serious purveyor of the freshest seafood. In fact, King's works directly with fishermen to cull seasonal seafood such as soft shell crabs (now in season!), a caught-near-Catalina bluefin tuna and wild Alaskan halibut.
As for this season's salmon, King's Fish House works directly with Yup'ik natives who live along the Yukon River near the U.S.-Canada border. King's cooks these pink-fleshed. wild-caught beauties in five dishes: salmon summer salad, salmon tataki roll, salmon crab cakes, hazelnut-crusted salmon and cedar plank-roasted salmon.
We were wowed with the salmon cakes, which were meaty and came surrounded by a sweet-and-tart butter, fennel and lime sauce. The hazelnut-crusted salmon was tender and earthy while the cedar plank-roasted salmon was surprisingly spicy with a dry rub of hot peppers. Salmon entrées also come with two sides such as super creamy garlic mashed potoates, sweet glazed carrots, rustic macaroni and cheese or sautéed spinach.
What about wines? We were happily steered into trying out a Spanish Albarino (Paco y Lola from Rias Baixas). This refreshing white has loads of complexity and pairs perfectly with the oily salmon. Another great thing about King's Fish House is wines can be bought by the glass, by the half bottle carafe and by the bottle. For example, a half carafe of this above-mentioned Albarino costs $16 and you can get two very large or four small glasses from it.
We also tried perfectly-fried calamari and a smoky clam chowder, which was full of succulent pink clams. Some come to King's to sit at the oyster bar to choose from nine varieties of oysters from Mexico, Washington, Prince Edward Island, British Columbia, Virginia and Maryland.
The menu at King's Fish House is long with tons of fresh seafood as well as sandwiches, pasta, chicken, steaks, salads and a famous burger.
Full? Don't even think about leaving King's Fish House without getting dessert. We thoroughly enjoyed the sweet, buttery and creamy strawberry shortcake and the tart and tastyy Key lime pie.
For more information, visit http://www.kingsfishhouse.com.
Sheryll Alexander runs a news media agency based in Costa Mesa, California. Follow her! @sheryllalexande
---