Travel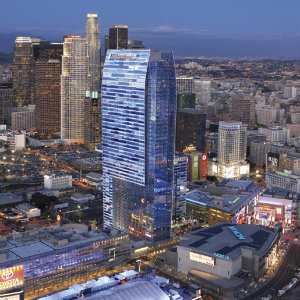 RITZ-CARLTON LIVE!
04.18.14
Plan a luxe staycation at our favorite Downtown L.A. hotel, The Ritz-Carlton Los Angeles that literally towers above the city's fantastic L.A. LIVE entertainment complex. It's a serene oasis where Staples Center, Nokia Theatre, Club Nokia, The Grammy Museum, Conga Room and Regal Cinemas are within steps from the property. It's the best place in the city to escape for a luxurious retreat, while still being close to the action.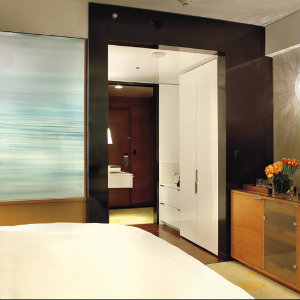 The LEED certified hotel boasts 123 sophisticated and modern guest rooms with high tech and comforting amenities such as concealed and vanishing TV's in the bathroom mirrors, sumptuous beds, refreshment centers with coffee makers, iPod docking station, and walk-in showers with rain shower head and soaking tubs. There are also 14 suites, and you can go all out with a 3,000-square-foot Ritz-Carlton Suite.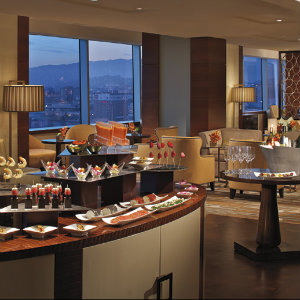 We strongly recommend upgrading to the Club Lounge (a $100 charge for two guests per day), which grants you access to a sky high club lounge on the 23rd floor from 7 a.m. to 10 p.m. It will be your respite where you can enjoy breakfast, lunch, hors d'oeuvres, cordials desserts (the chef likes to experiments with delicious macaroon flavors).
There's even a state-of-the art espresso, coffee and latte maker, as well as mini-refrigerators stocked with juice, water, soda and even beer. The breakfast spread is especially noteworthy, with assorted bagels and housemade pastries; housemade granola yogurt parfait; smoked salmon with cream cheese, capers, and red onion; selection of charcuterie such as ham, turkey, and cured meats; oatmeal with brown sugar and raisins; quiche; and a selection of fresh, sliced seasonal fruit.
The Club Lounge has beautiful views of the city, plus three flat-screen TVs, a business center with personal computers and printer, and a flat-screen-TV for private boardroom with conference seating.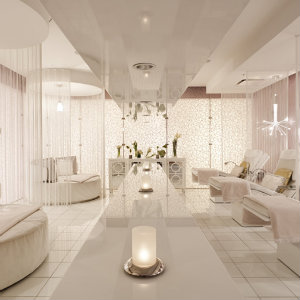 At Ritz-Carlton, Los Angeles you can even make a day of not leaving the hotel. Book a pampering treatment in the 8,000 sq. ft. sumptuous spa with a classic Hollywood vibe. And, enjoy the co-ed sanctuary, private men's and women's relaxation rooms, eucalyptus steam rooms and cold plunge showers. There's also a stunning 26th floor rooftop pool and bar with gorgeous panoramic views of the L.A. skyline.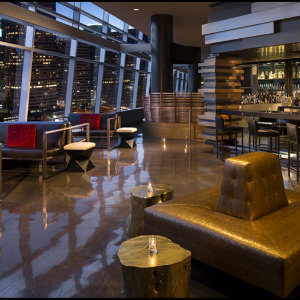 You can even dine-in with plenty of options to choose from—order a casual lunch poolside, or enjoy award-winning cuisine at Wolfgang Puck's WP24, a modern twist on Chinese cuisine. Other hotel eateries include Nest at WP24, a menu of Asian-inspired snacks, appetizers, sushi and large plates; LA Market, showcasing fresh and modern cuisine; Esspressamente Illy, an Italian-style café, Glance Lobby Bar, and the Mixing Room, cocktail lounge and small plates.
Treat your mom to a Mother's Day Royal-Tea Treatment
Pamper her with a luxurious Mother's Day fit for a queen with a Mother's Day "Tea at the Top" in Wolfgang Puck's WP24 followed by a 50-minute Signature Ritz-Carlton Massage and a Classic Manicure and Pedicure. Valet parking is also included.
Tea at the Top seatings at 1, 1:30 and 2 p.m.
$310 per person plus tax and gratuity.
900 West Olympic Boulevard, Los Angeles. 213.743.8800
---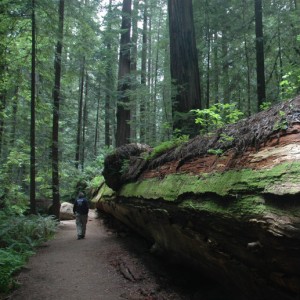 Exploring Humboldt County
11.07.13
At least once in your life, you need to see Humboldt County, arguably the most scenic rural county in the country. It's a nature lovers' nirvana where you can explore spectacular parks, forests, preserves and beaches, not to mention it's home of the "Avenue of the Giants" the famous 31-mile scenic drive, boasting the largest stretch of majestic redwoods in the world. It's no wonder it made the "1,000 Places To See Before You Die" list.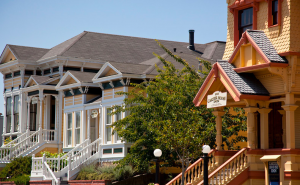 On a recent trip to Humboldt County, we were fortunate enough to stay at the Carter Cottage in Eureka, part of the Carter House Inns, a grouping of Victorian buildings that are charming, modern and relaxing. Owners Mark and Christa Carter poured their hearts into building, restoring and furnishing these mansions and cottages made up of the Carter House, Carter Cottage, Bell Cottage, Anne's House and the luxury Hotel Carter with the top-rated fine-dining Restaurant 301.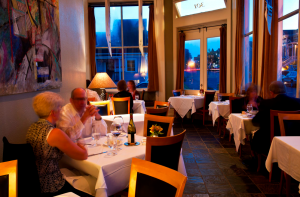 At the restaurant, you'll be treated to fresh, local and farm-to-table cuisine. Chef Cory Smith even hand selects fresh produce daily from the Carter edible flower and vegetable garden and purchases the finest ingredients from local purveyors. Wine connoisseurs will appreciate the award-winning wine list, boasting more than 3,500 selections, as well as the proprietors' own label, Envy Wines, a collaboration from veteran Napa winemaker, Nils Venge and Carter.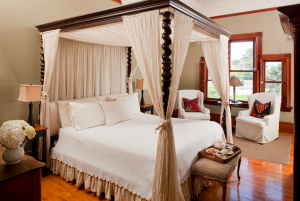 The ideal way to experience the Carter House Inns is to plan a getaway for two with its special internet-only package that includes a luxury room, plus a five-course dinner at Restaurant 301, in-room massage for two, a bottle of Champagne and a dozen red roses. The special includes a two-course breakfast, wine and hors d'oeuvres before dinner, cookies and tea before bedtime as well as a turndown with chocolate truffles. You can add this package to your reservation.
Carter House Inns is at 301 L St. in Eureka. 707.444.8062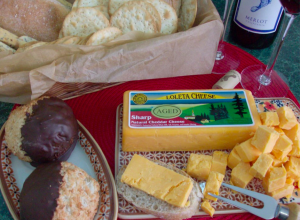 We also recommend that you visit some of our favorite spots while in Humboldt County. You can't miss the Loleta Cheese Factory a family-owned cheese maker only about 13 miles south of Eureka, specializing in 34 varieties of cheese (some organic), including natural cheddar cheese (both medium and sharp cheddar), Havarti cheese, Fontina cheese, Monterey jack cheese, flavored jack cheese, Colby Jack cheese (also known as Co-Jack) and specialty cheeses.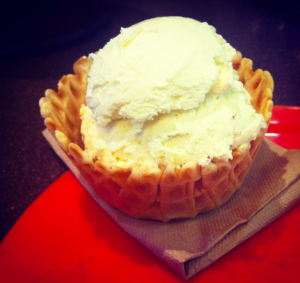 Don't miss a stop at Arcata Scoop for organic homemade ice cream and sorbet made fresh daily in small batches. For the ultimate in an Arcata Scoop experience get a fresh waffle cone or bowl and choose from a dozen interchanging flavors. Some of the popular choices include fresh salted caramel strawberry, cookies and cream, chocolate, and honey lavender vanilla.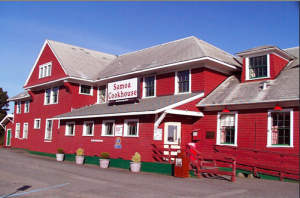 You'll never forget a breakfast, lunch or dining experience at the famous Samoa Cookhouse that will take you back in time to the glory days of the lumber and logging industry. Established in 1890, it's the only extant cookhouse of the west, and all meals are served "lumber camp" style, meaning food is brought in bowl and platters to share. You also must stop at the Samoa Dunes near Eureka, a coastal park with opportunities for hiking, surfing, boating or just spending time on the beaches.
For more resources on what to see and do in Humboldt County, visit the Redwood Coast site or for events, offer and more visit here.

---
More Travel